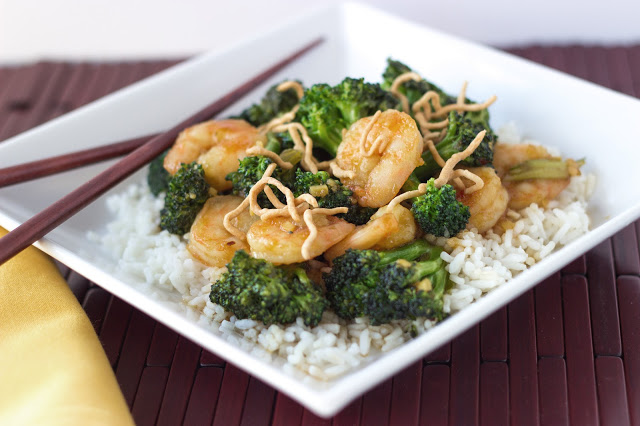 How many of you subscribe to Cooking Light? I've been a subscriber for about 5 years. I like knowing how many calories are in my meals and most of their recipes are pretty easy and made in a short amount of time.
When I make stir fry, shrimp is my go-to ingredient. We like the flavor it provides overall to the dish and, well, because sometimes I don't have good luck with chicken – it is probably chef error! While this recipe called for broccoli, you could add other veggies you like – carrots, peppers, snow peas – the list is endless. Often I will add those cute baby corns (canned in the asian aisle section of your grocery store). And sometimes I buy pre-made sauce but for this recipe I used what it said – including minced ginger – aaaah, there is something about ginger that not only smells good while cooking but also provides a great flavor.
Hope you enjoy this recipe…. I still haven't mastered the chop sticks – they are just a prop 🙂
Shrimp and Broccoli Stir Fry
Prep Time: 10 minutes
Cook Time: 8 minutes
Ingredients (4 servings)
12 oz medium shrimp, cleaned
1 T cornstarch
2 ½ T canola oil
1/4 cup green onions, cut on diagonal
2 t minced fresh ginger
1 clove garlic sliced thin
1 medium head of broccoli florets (2-3 cups)
1/4 cup soy sauce
2 T rice vinegar
1 t honey
1/4 t crushed red pepper
Instructions
1. Place shrimp and cornstarch in bowl and toss to coat
2. In a wok, heat 1 T oil over medium high heat. Stir fry the shrimp about 2 minutes each side then remove
3. Add another 1 ½ t oil to wok, then add green onions, ginger and garlic. Stir fry 45 seconds then add the mixture to the shrimp
4. Add 1 T oil and stir fry broccoli for 2 minutes; add shrimp mixture back in with remaining ingredients.
5. Bring to boil and cook about 1 minutes until heated through and shrimp done
6. Serve over rice