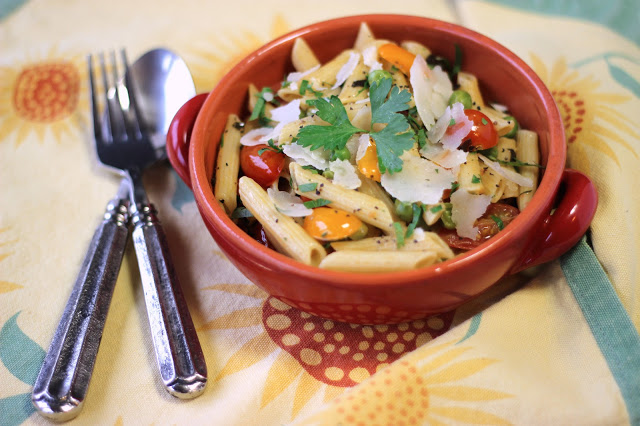 Recently my June Cooking Light magazine came and the cover alone made me excited to check it out. So fresh looking with tomatoes, corn and grilled chicken on a pretty plate. I quickly came upon this recipe that I knew I wanted to try pronto! The main ingredients are penne pasta, baby heirloom cherry tomatoes, fresh basil and fresh parsley with just a bit of olive oil…. oh and peas too, but if you aren't a fan, you could leave those out. The final product is topped with shaved parmesan cheese.
While it isn't tomato season here yet, I was able to get what I wanted at my local Trader Joe's – one of my favorite grocery stops. I find the fresh ingredients I am looking for and they have a great cheese section. My favorite item is their virgin olive oil… great price and flavor.
I also loved how quick and easy this was – from start to finish only 20 minutes. So when you get home from work and want a quick, easy and healthy recipe, give this one a try!
Pasta with Herbs and Tomatoes
Prep Time: 10 minutes
Cook Time: 15 minutes
Ingredients (4 servings)
8 oz penne pasta
1 cup thawed frozen peas
3 T olive oil
2 cloves sliced garlic
3 cups cherry tomatoes halved
1/2 t salt
1/2 t fresh pepper
1/3 cup thin sliced basil
2 T chopped fresh parsley
Shaved Parmesan cheese
Instructions
1. Cook the penne and during the last 2 minutes add the peas; drain
2. In a large skillet heat the oil over medium heat then add the garlic and sauté until it begins to brown.
3. Increase the heat then add the tomatoes and cook for about 90 seconds.
4. Add the pasta, peas S&P to skillet and cook until heated through – about 3 minutes
5. Lastly add in basil and parsley – serve with cheese sprinkled on top