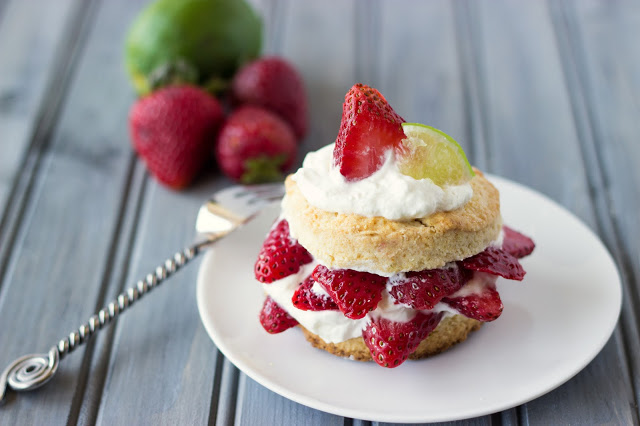 Happy Wednesday! Today is the Spiked Challenge reveal day with tequila. I really had to think about this one (rules state it can't be a drink–that would be too easy). So I wasn't sure if I should go sweet or savory (I had ideas of a grilled chicken or maybe a cheesecake). Then one day I was walking through Trader Joe's and they had the most beautiful looking strawberries that seemed to call out — eat me! So I bought myself a 2 pound box and went on my way. At home I made a margarita and instead of drinking it, I mixed it with sliced strawberries and marinaded them for about an hour. While that was happening, I made the biscuits. So far so good but wait – it gets even better with a whipped topping made with heavy cream and Grand Marnier.
I served these to my family last Saturday (minus tequila for one family member) and they were a hit. The strawberries took on a nice flavor with the mix and the orange flavor of the Grand Marnier really came through in the whipped topping. I made ours with the strawberries drained and yes, we did drink the juice – very strawberry-ish!
To make a non-alcoholic version, just use the margarita mix (minus alcohol) and orange juice for the Grand Marnier.
Be sure to head over to Julie's or Carrie's to see what everyone links up.
Strawberry Margarita Shortcake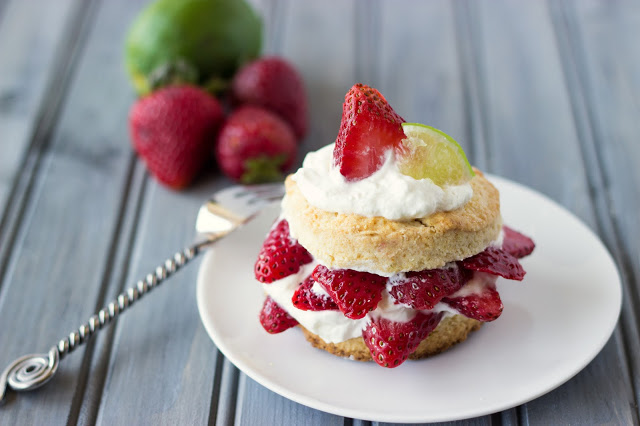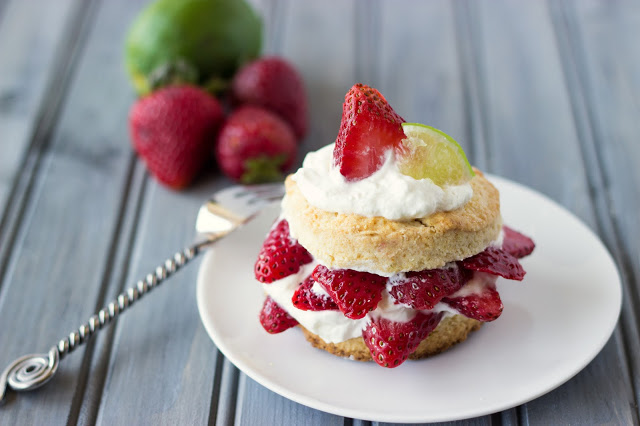 Ingredients
For strawberry marinade
4.5

oz tequila mix

1.5

oz tequila

.5 oz triple sec

2

lbs strawberries hulled and sliced
Whipped topping
2

cups heavy cream

2

T Grand Marnier

4

T confectioners' sugar
Biscuits
2

cups flour

1

T baking powder

1/4

t salt

2

1/2 T sugar

1

stick butter, cut into 12 slices (chilled)

3/4

cup heavy cream
Instructions
1. Place sliced strawberries in a large baggie and add marinade. Add drink ingredients and keep in refrigerator for at least one hour but no more than two.
2. Preheat oven to 425. Combine the flour, baking powder, salt and sugar with a pastry cutter in a large bowl and then add butter using cutter until it resembles coarse meal. Make a well, add cream and combine with fork until moist and then let rest for one minute. Turn onto a floured surface and knead a couple times only (don't overwork). Pat in a 6x12 rectangle and cut with a 3" round cutter. Place on a cookie sheet lined with parchment paper. If desired, brush cream on top and sprinkle with sugar. Bake for 10-15 until golden brown.
3. Whip heavy cream with Grand Marnier and confectioners' sugar until it holds a soft peak
4. To assemble – drain strawberries (save juice), split biscuits, place whipped cream and strawberries in middle and top with additional cream.