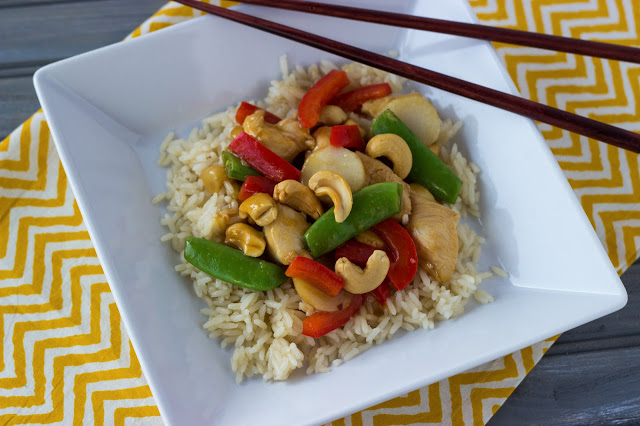 Do you ever get Chinese take-out? Do you wish you could make a lighter version at home in under 30 minutes? Then I think you are really going to like this recipe. I came across this in an America's Test Kitchen Comfort Food Makeovers cookbook and was anxious to give it a try.
A couple things make it lighter…. the veggies are steamed and the chicken is only cooked in 1 T of veg oil. I liked that the veggies retained their color and had a crispness to them that normally won't happen if you stir fried them in oil. Do you like spicy? This calls for a bit a red pepper flakes but you could kick it up a notch by adding a bit more… we tend to like our dishes spicier. The cashews and water chestnuts also provide a nice texture. Of course, because you know I like my Uncle Ben's 90 second rice, I served it over that.
One more thing I want to mention is that since the chicken is marinaded for a bit, it was so tender. Get your chopsticks out and dig in (though I must confess I used a fork!)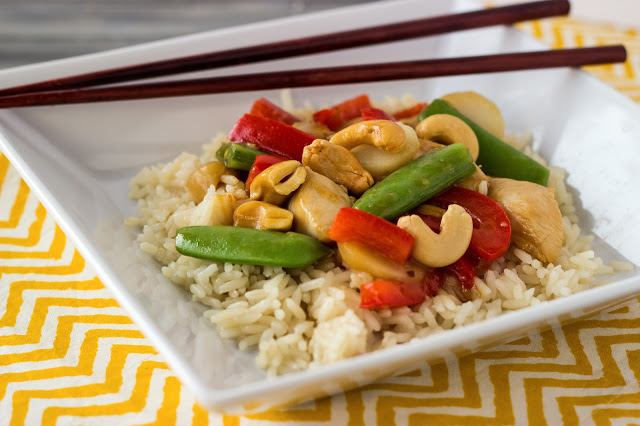 Cashew Chicken Stirfry
Serves: 4
Calories: 300
Prep Time to Table: 20 minutes plus marinade time
Ingredients:
– ¼ cup soy sauce
-2 T rice vinegar
-2 T cornstarch
-1 t sugar
-4 t sesame oil
-2 t fresh grated ginger
-12 to 16 oz boneless chicken cut into small pieces
-3/4 cup chicken broth
-1 garlic clove minced
-1 T vegetable oil
-1/4 t red pepper flakes
-1 red pepper cut into thin strips
-8 oz fresh snow peas
-8 oz sliced water chestnuts drained
-1/4 unsalted cashews coarsely chopped
Preparation:
1. In a small bowl whisk the soy sauce, vinegar, cornstarch and sugar. Take out 2 T of the mixture and place in large baggie and add 2 t sesame oil and chicken. Marinade for 15-30 minutes in the refrigerator.
2. Add the broth the remaining mixture and set aside. In a small bowl combine garlic, ginger, pepper flakes and 2 t sesame oil.
3. Place the red peppers and snow peas in a small microwave dish with about ¼ cup water and cook for 90 seconds and then drain.
4. In a large skillet or wok, heat the veg oil then add the chicken and stir fry until the chicken is light brown on each side. Push chicken off to side and in the middle add garlic mixture and cook/stir for 30 seconds.
5. Add the steam veggies, water chestnuts and cashews. Whisk the sauce and add to skillet – simmer until the chicken is done. Serve over rice.
Notes: