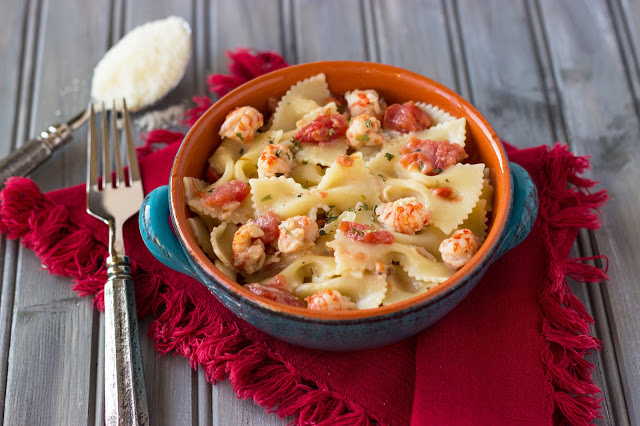 Raise your hand if you have heard of langostinos…. (ok, I see a few hands). These are a type of shellfish – not lobster or prawns or shrimp – from what I've read they are part of the crab family and quite delicious. To me they taste somewhat lobster-like.
I've had a bag of these in the freezer for a couple weeks (found at Trader Joes – precooked). In the past I have sauteed these with garlic butter and white wine served over angel pasta. For this recipe I had wanted to use up some alfredo sauce I had leftover from another recipe along with some shallots. And just for fun, threw in some diced tomatoes but since I didn't want my sauce to turn pink, I drained and rinsed these. The results were really good and the DIY Guy really liked it. Your pasta choice is up to you or what you have on hand.
We ate ours with pecorino romano cheese sprinkled on top and it also tasted good leftover.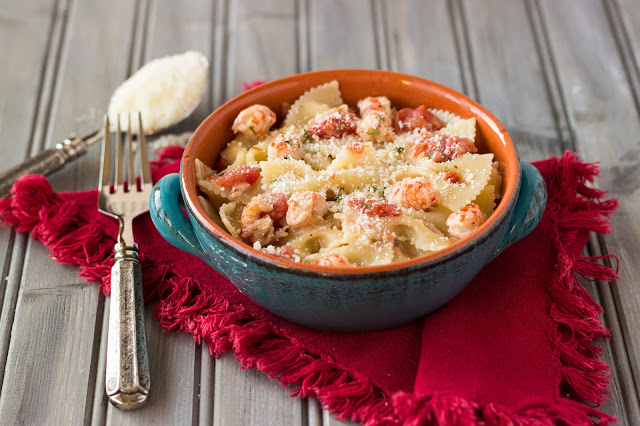 Mangia!
Pasta with Langostinos
Serves: 3-4
Calories: NA
Prep Time to Table: 20 minutes
Recipe : Original
Ingredients:
– 8 oz pasta (I used farfelle)
-2 T butter
-1 T olive oil
-2 T minced shallots
-1/2 t oregano
-1/2 t basil
-5 oz. purchased alfredo sauce
-3/4 c dry white wine
-15 oz diced tomatoes, drained and rinsed
-S&P
-1 small bag of defrosted, cooked langostinos (I got my at Trader Joes in the frozen section)
Preparation:
1. In a medium skillet, heat the butter and olive oil then add the shallots and sauté until light brown.
2. Add the white wine and simmer until it reduces about 1/3 then add the spices, tomatoes and alfredo sauce. When this is heated, add the langostinos and simmer about 5 minutes
3. Cook pasta while preparing the sauce and toss together when all is done.
4. Sprinkle with romano cheese if desired.
Notes: