Good Morning! Well, I guess it is almost noon here but it has been a lazy morning for me. Though I am itching to get outside… we will be in the 70's today and lots of sun!
The DIY Guy has many chores on his list today so I wanted to start him out with a good breakfast. I'm not sure about you but our breakfasts tend to be quite boring. I'm mostly a cereal girl (my fav being Bare Naked Triple Berry Crunch or Cheerios with banana). He does the same with an occasional egg or bagel thrown in. So going outside the box today! I think a similar recipe was made for me by the kids for Mother's Day a few years ago and I remembered how light and fluffy these were plus I love lemon and blueberries.
These really hit the spot today and now we are fueled and ready to go… let's see my list includes washing screens and windows, washing my car and finishing up the laundry. I think lunch will be a delivery from Jimmy Johns and for dinner I have rib-eye steak planned for grilling!
I hope you have a great weekend!!
Another pancake recipe you might enjoy –Cinnamon Role Pancakes with Glaze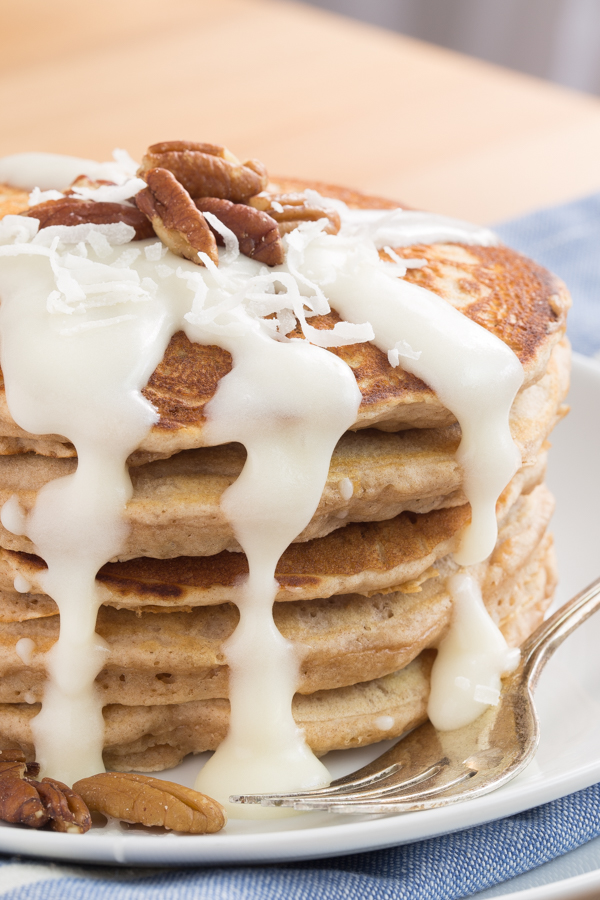 Lemon Blueberry Ricotta Pancakes
Serves: 4-6
Calories: NA
Prep Time to Table: 15 minutes
Recipe : Adapted from Williams Sonoma
Ingredients:
– 1 cup whole milk ricotta
-1 cup whole milk
-3 eggs, separated
-1/4 cup sugar
-zest and juice of one lemon
-1 ½ cups cake flour
-1 T baking powder
-1/4 t salt
-blueberries (up to a pint)
Preparation:
Put the ricotta, milk, egg yolks, sugar, lemon zest and juice in a large bowl and whisk until smooth.
Combine the flour, baking powder and 1/8 t salt and then sift it over the ricotta mixture. Use a wooden spoon and mix until just combined.
In a separate bowl combine the egg whites and the remaining salt. Beatuntil soft peaks form.
Using a rubber spatula take 1/3 of egg mixture and combine with above mixture then gently fold in rest of eggs.
Heat your griddle and use either some butter or spray.
Place 1/3 cup of batter on griddle then place some blueberries on top of batter… cook until bubbles form around edges then flip.
Serve with your favorite syrup!
Notes: