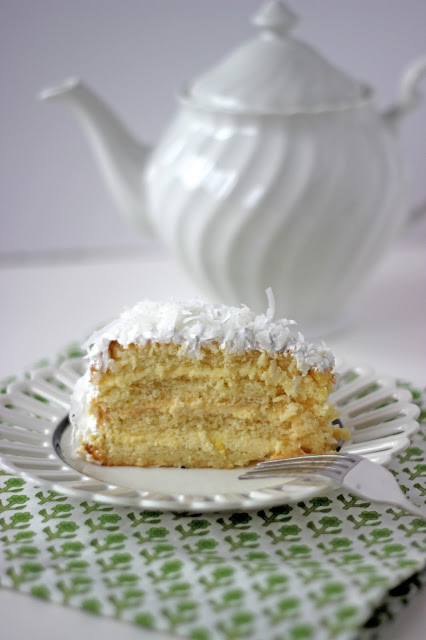 Here's the last of the desserts I made for Easter Sunday…. It's a delightful 4 layer yellow cake, with cream filling, and frosted with a marshmallow type frosting and then covered in coconut. Everything is made from scratch. A little lot putzy but worth every bite (and calorie!). And, of course, you must like coconut!
The cake should be made at least a day ahead and then covered with plastic wrap and refrigerated. I think it even tastes better with 2 days of sitting – the flavors really meld well then. We had a great Easter Sunday and pleased everyone liked the desserts I brought. I liked getting asked to bring them and have fun looking for some new desserts to try… until next year…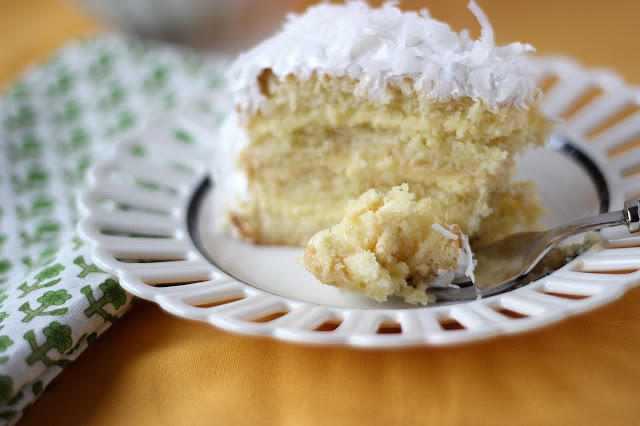 Cake:
• 1 cup milk (or use milk from coconut)
• 2 tablespoons butter
• 2 cups flour
• 3 teaspoons baking powder
• 1/4 teaspoon salt
• 4 medium eggs
• 2 cups sugar
• I teaspoon grated lemon peel
• 1 teaspoon coconut extract
Filling:
• 2 cups milk
• 1/3 cup sugar
• 3 tablespoons cornstarch
• 1/2 teaspoon almond extract
• 1 teaspoon vanilla extract
• 1/2 cup heavy cream, whipped
Frosting:
•
2 medium egg whites
• 4 tablespoons light corn syrup
• 1/4 teaspoon salt
• 1/8 teaspoon cream of tartar
• 1/2 teaspoon coconut extract
• 1/2 teaspoon almond extract
• 1 package grated coconut, to sprinkle onto cake
For cake:
Preheat oven to 350'F. Grease and flour two 8- or 9-inch round cake pans and then line bottom of each pan with waxed paper. In small pan, heat milk with butter until bubbles form around edge of pan and butter is melted. Remove from heat and let it cool slightly. Sift flour with baking powder and salt and set aside. With an electric mixer at high speed, beat eggs until thick and lemon-colored. Add sugar 1/4 cup at a time, beating until thick and smooth, about 5 minutes. Stir in the lemon peel and coconut extract. With the electric mixer at low speed, blend in flour mixture, beating just until smooth. Add warm milk mixture, beating just until blended. Pour batter into pans. Bake for 30 to 35minutes. Cool in pans for 10 minutes. Then remove to cool completely on racks. Carefully peel off paper. Using a sharp knife, split
each layer in half horizontally to make even layers.
For filling:
In small saucepan, heat milk slowly, just until bubbles form around edge. Combine sugar and cornstarch, and stir into hot milk. Cook over medium heat, stirring until mixture boils and is thick. Continue to boil
for 1 minute. Beat a small amount of hot mixture into egg yolks. Pour egg mixture back into saucepan. Bring to a boil, then remove from heat. Stir in almond extract and vanilla. Place waxed paper on surface to prevent film from forming, and refrigerate for a hour until well chilled. Then fold in cream. Place first cake layer, cut side up, onto a serving plate, and spread with 1/3 of the filling. Top with another layer, cut side down, and spread with 1/3 of the filling. Top with third layer, cut side up, and spreading with remaining filling. Top with last layer, cut side down.
For frosting:
In top of large double boiler, combine egg whites, corn syrup, sugar, salt, and cream of tartar. Cook over rapidly boiling water, beating constantly with an electric mixer, just until soft peaks form, about 4 minutes. Remove from boiling water. Add coconut and almond extracts and continue beating until frosting is thick enough to spread, about 2 minutes. Frost top and sides of cake. Cover top and sides with grated coconut. Cover with plastic wrap and refrigerate until serving