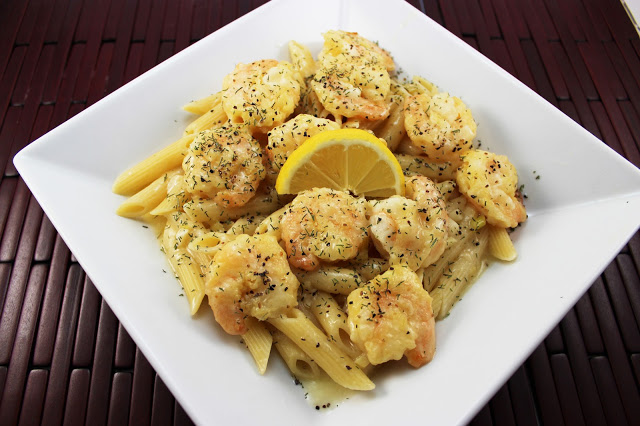 It's 5 o'clock somewhere! I was digging way back in some of my old Bon Appetit magazines and came across this tasty dish that has some of our favorite ingredients – shrimp and pasta. And by the title you know it also has a some sort of liquor. The shrimp is marinaded in tequila and lemon juice and that provides a nice flavor that was not too overpowering. The recommended marinade time was 2 hours but I cut that in half because I was running short on time…..probably not a dish you would make if you are in a hurry. But I highly recommend it, so be sure to plan about 1 1/2 hours before you would like to eat.
Recipe Source: Adapted from Bon Appetit
This recipe makes 2 servings and it was just the right amount for the two of us. I really liked how the shrimp was prepared… it had a nice light coating – not heavily breaded. Pick your favorite pasta – the original recipe called for fettuccine but I used what I had on hand.
Enjoy!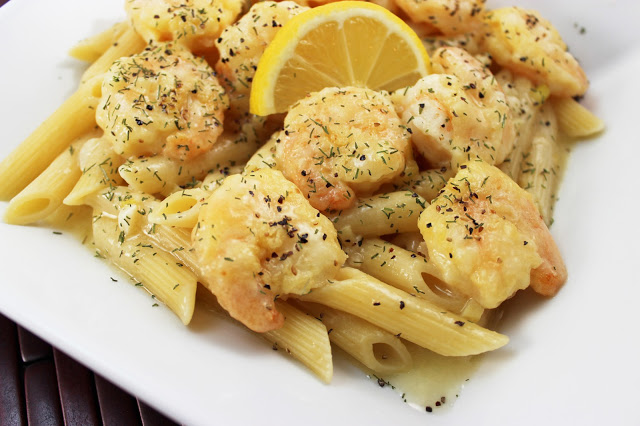 Ingredients:
-12 large uncooked shrimp, peeled and deveined
-½ cup tequila
-3 T fresh lemon juice
-2 eggs
– 2 T water
-1/4 cup oil olive
-flour
-1/2 cup butter
-3 thin lemon slices
-4 green onions chopped
-2 tsp minced fresh ginger
-1 tsp minced garlic
-1 tsp flour
-1 cup dry white wine
-6 oz your favorite pasta
-dill weed
Preparation:
Mix shrimp, tequila and lemon juice in medium bowl; cover and refrigerate 1-2 hours then drain
Whisk eggs and water in bowl. Season with S&P. Heat oil in a large skillet over medium heat. Dip the shrimp in the egg mixture and then into flour, be sure to shake off excess. Saute shrimp until cooked through turning once about 2 minutes each side.
Transfer shrimp out onto a paper towel lined plate and keep warm.
In the same skillet add 2 T butter and melt then adding lemon and green onions; sauté 3 minutes then add ginger and garlic and sauté an additional 2 minutes.
Stir in the flour and then gradually mix in wine. Boil until it reduces to a glaze – about 2 minutes. Add remaining butter and whisk until melted. Return shrimp and heat through.
Divide cooked pasta in 2 bowls, top with shrimp and pour sauce over – can sprinkle with dill if desired.