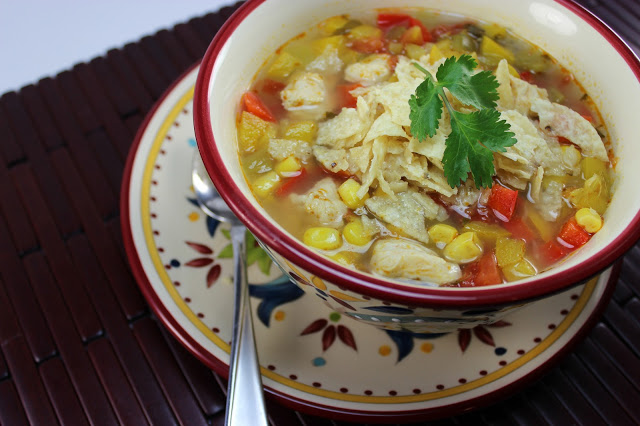 Here's a somewhat oldie but goodie – I've made this recipe a few times and it's one I go to when I'm looking for flavor, spice and a cure for the common cold. We've been back from vacation for 4 days but what I didn't mention before is that last Wednesday I started coming down with a cold. Of course, being on vacation, in the sun and having fun, I really didn't notice it but as soon as we started to come home on the 4 hour plane ride, well then I could tell it was going to hit! For the last 3 days I haven't been able to taste anything and constantly had the sniffles but today I started to make a turn. Since I had my taste back, I knew I wanted to make this tonight – it would be exactly what the doctor would order! Picked up all the ingredients and once home this was done in 30 minutes.
This recipe came from a friend named Tracy (of course). I made it exactly as she did – no tweaks are needed. Great flavor and just enough spice/hotness for us. And by George, I think I am cured – I feel great!
Recipe Source: Tracy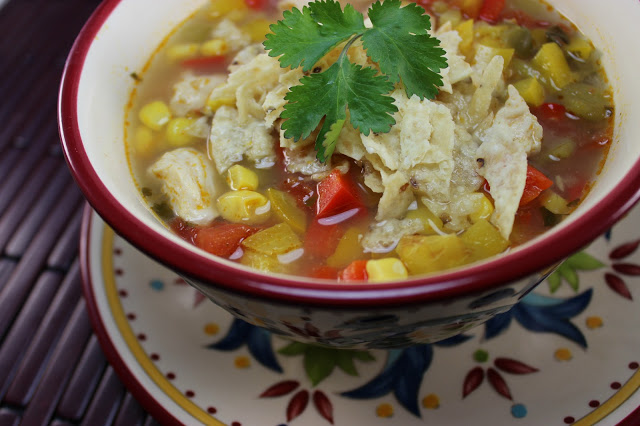 What's your go to recipe when you aren't feeling up to snuff??
Ingredients:
-1 tbl olive oil
– ¼ cup diced onion
-1 yellow pepper diced
-1 red pepper diced
-7 oz. can diced green chilies
-1 can Rotel – lime and tomatoes
-1 can Rotel – green chilies and tomatoes
-6 cups chicken broth
– ¼ tsp cumin
-1 cup frozen corn
-fresh cilantro chopped (to taste)
-12 oz. boneless chicken diced
-Juice of 1 lime
-S&P
Preparation:
1. In large pot, heat oil and sauté onions for 3 minutes then add peppers and chicken and sauté for about 5 minutes
2. Add remaining ingredients and simmer for about 20 minutes
Notes: top with crushed tortilla chips, shredded cheese and sour cream if desired