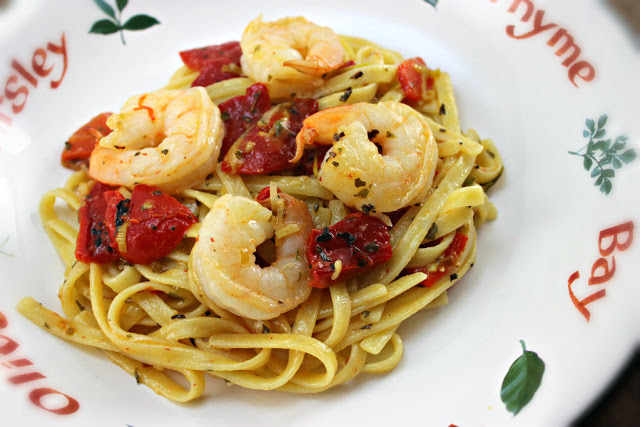 If we aren't eating chicken in the house, then it must be pasta! I'm trying to create some new recipes and also use up some ingredients that I have in the house. Items I usually have on hand are pasta (more than I probably need!), frozen shrimp, wine – 3 buck chuck from Trader Joes, and spices – of course. This night I had some leftover leeks and just happened to have a jar of roasted peppers. This dish came together under 30 minutes and the flavors really complimented each other.
Recipe Source: Original
I will definitely be making this again and next time use some fresh herbs. This one used the dried versions I had on hand.
Cute pasta bowls – right?
I love reading your comments and will response when we get back from vacation!


Shrimp with Pasta and Roasted Peppers
Serves: 4
Calories: na
Prep Time to Table: 30 minutes
Recipe : inspired from Cooking Light
Ingredients:
-1 ½ cups roasted red peppers (your own or bottled – either is fine)
-6 oz cooked fettuccine
-2 T olive oil
-1 T butter
-1 cup sliced leeks
-6 oz uncooked shrimp
-1/4 cup fresh lemon juice
-1/4 cup dry white wine
-1/2 t sea salt
-1/4 t fresh pepper
-1/2 t dried basil
-1/2 t oregano
-1/2 t dried parsley
-1/4 t or more of crushed red pepper
Preparation:
1. Heat 2 T oil and butter in large skillet over med high heat. Add leeks and sauté until soft and push to out sides of pan. Add shrimp and cook about 2 minutes on each side until done and remove from pan.
2. Add red peppers and sauté for 2 minutes then add spices, lemon juice and wine and cook until liquid is reduced by half.
3. Add shrimp to mixture and toss in fettuccine.
4
. Serve and if desired top with romano cheese.
Notes: