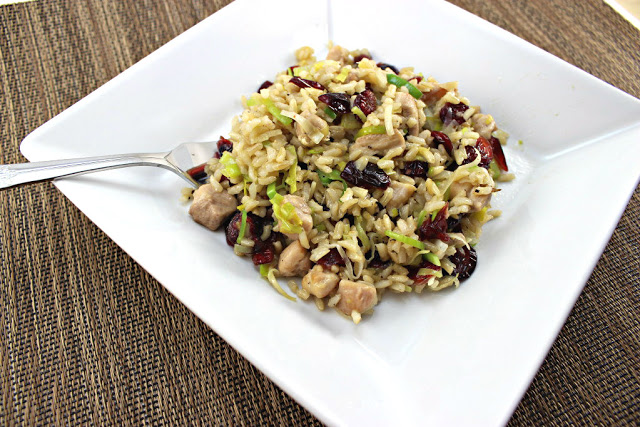 I'm always looking for ways to use chicken. It is a main staple at the house and I was very curious when I came across this recipe – wasn't sure how it would taste but the combo of leeks and dried cranberries sounded interesting. So one night after work, I gave it a try. Prep time wasn't too long – just the slicing of leeks and dicing some boneless chicken thighs – I substituted the rice by using pre-made Uncle Ben's brown rice (2 packets). It needed to be chilled so I just kept them in the fridge after getting my groceries.
Speaking of leeks – do you know how to clean them? I cut off the very green top part and the root. Then I slice in half long way and run water between the layers and drain or pat dry. This will remove girt that sometimes gathers in-between.
Recipe Source: Adapted from Cooking Light
The DIY Guy and I both really liked this – the unique flavor of the leeks (kinda oniony/garlic like) and the dried cranberries gave it a sweet-savory taste.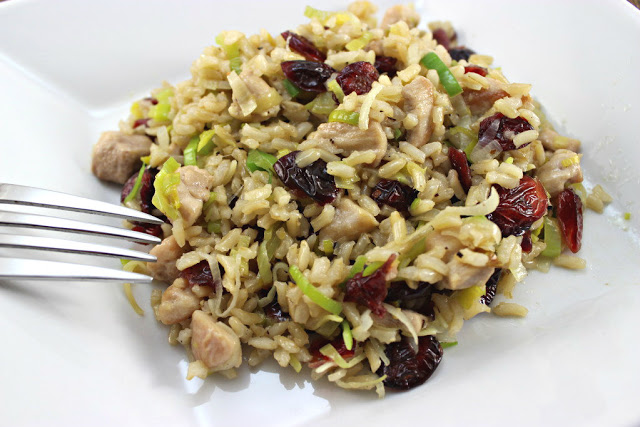 Enjoy!
I enjoy getting your comments but am currently on vacation and will respond when I return.


Chicken Fried Rice with Leeks/Cranberries
Serves: 4
Calories: 452
Prep Time to Table: 30 minutes
Recipe : Adapted from Cooking Light
Ingredients:
-2T olive oil
-sea salt
-1/2 lb boneless chicken thighs, diced
-2 cups leeks, thinly sliced
-1/4 t fresh pepper
-2 packets Uncle Ben's long grain brown rice (chilled)
-1 cup dried cranberries
-1/2 t dry sage spice
-1/4 cup dry white wine
Preparation:
1. In a large skillet heat one T of oil until hot over med high heat. Sprinkle the chicken with some salt and sauté for 3 minutes in skillet until browned – stir occasionally then remove chicken from pan.
2. Add leeks, black pepper and a little salt to the pan and sauté about 4 minutes until they are tender and golden – remove and add to the chicken.
3. Add remaining 1 T of oil and add chilled rice – first stir to coat oil on rice then flatten out in pan and cook for 2 minutes without stirring. Stir again, then cook another 2 minutes with stirring.
4. Stir in remaining ingredients and stir constantly and cook until wine is evaporated.
Notes: