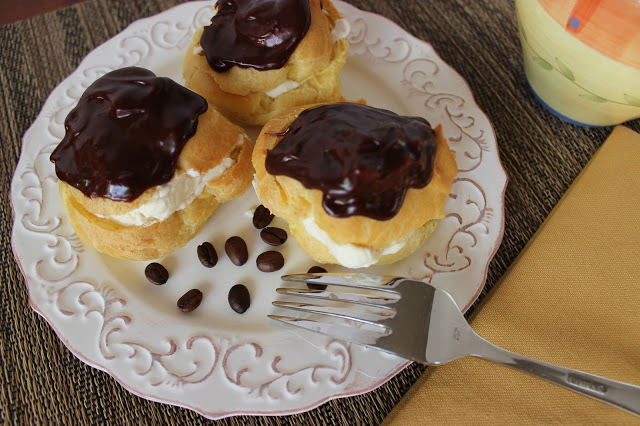 Last Friday I met daughter #2 in Minneapolis for a quick lunch and to catch up on life. She suggested a place downtown called Spoonriver that is located by the Guthrie Theater. This place is know for using organic food, local growers and fresh ingredients… they did not disappoint. Danielle had the Cafe Brenda Burger made out of veggies, nuts and rice. I had a fresh green spring salad with herb goat cheese and a small cup of butternut squash soup. Everything was very tasty! We decided to take a look at the dessert tray and I told Danielle she would pick out what she wanted – I only wanted a bite. She settled on a cream puff with tiramisu filling and I ended up having about half! It was soooo good and I really wanted to create my own version.
It was a first for me making cream puffs. These aren't hard to do – don't be scared away! I also needed to come up with a filling with no eggs. Traditional tiramisu has uncooked eggs and that is something I did not want to deal with. I came up with a light, fluffy filling with a bit of Kahlua (you could use strong coffee if not a fan of alcohol). And to top it off is a chocolately ganache with a bit of more of Kahlua. The combination of all three really melded together nicely!
My taste tester was blown away and has already eaten 4 in 2 days! I was very pleased too with the results and now thinking of new fillings to try…. stop by another time to see what I come up with next!
Recipe Source: Original
(printable recipe)
I'm still by no means an expert with my new camera. I took the picture above in natural light and the one below in a light box. Either way, don't they look yummy!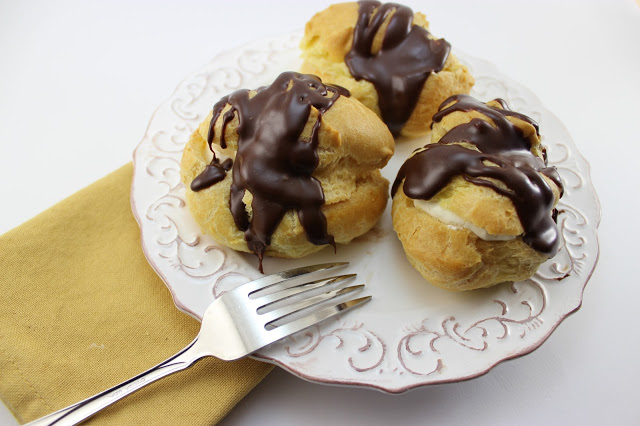 Enjoy!
Next time I hope both the girls can meet me!
Another cream puff recipe you might enjoy. Strawberry Cream Puffs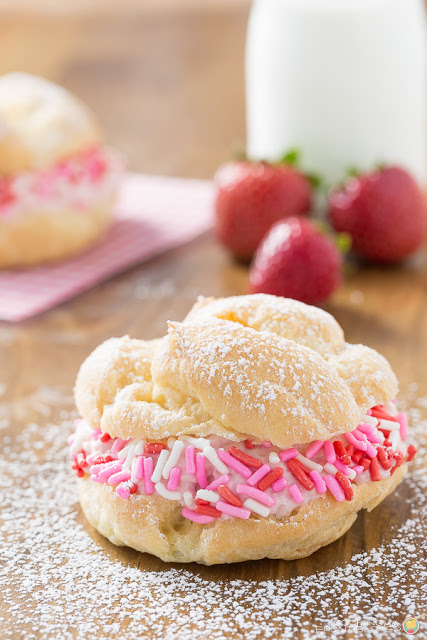 Tiramisu Cream Puffs
Serves: 10
Calories: NA
Recipe : Original
Ingredients:
Puffs:
-1 cup water
-1/2 cup butter
-1/4 tsp salt
-1 cup flour
-4 eggs
Filling:
-8 oz mascarpone cheese
-1 tsp vanilla extract
-3 T Kahlua (or 3 T strong coffee)
-1 cup heavy cream
-1/4 cup powdered sugar
Ganache:
-1/2 cup whipping cream
-2 T Kahlua (or strong coffee)
-1 T light corn syrup
-6 oz (bittersweet or semisweet ; combination works too)
Preparation:
For puffs: bring the water, salt and butter to a rolling boil then add flour in all at once and stir until a smooth ball. Remove from heat and let rest 5 minutes. Add eggs one and time and beat by hand until each is mixed well and final product is shiny. Place parchment paper on a cookie sheet and scoop ¼ cups of dough on sheets. Bake at 400 for 30-35 minutes. Tops should be golden brown. Remove from oven and place on wire rack. Make a small slit with a sharp knife to let steam escape. Cool completely, cut tops off and remove webbing on the inside.
For filling: beat mascarpone until smooth in a medium bowl then add in Kahlua and vanilla. In another bowl whip cream and add 1 T of sugar at a time until soft peaks form. Fold in mascarpone mixture. Fill cream puffs and replace tops.
For ganache: in small saucepan, bring cream, Kahlua and corn syrup to a simmer. Pour over the chocolate that has been chopped. Whisk until smooth. Refrigerate until desired consistency and drizzle or frost cream puffs.
Cream puffs must be stored in refrigerator or served immediately.
Notes: strong coffee is a good substitute if you prefer not to use liquor