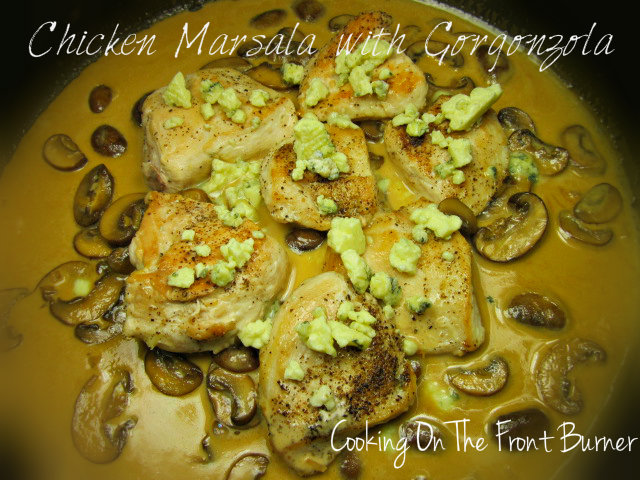 I like Chicken Marsala and I think this is about the third recipe I have made in the last 2 years. This one caught my eye because it had a bit of heavy cream – and what doesn't taste good with that! I'm also a fan of gorgonzola cheese – and as you can see it has a yellow tinge to it… unlike blue cheese which is more white. Comparing the 2, this has a stronger flavor. Another nice feature, with about 30 minutes this goes from prep to table!
Recipe Source: Taste of Home
The DIY guy really enjoyed dinner this night and quickly claimed the leftovers for himself!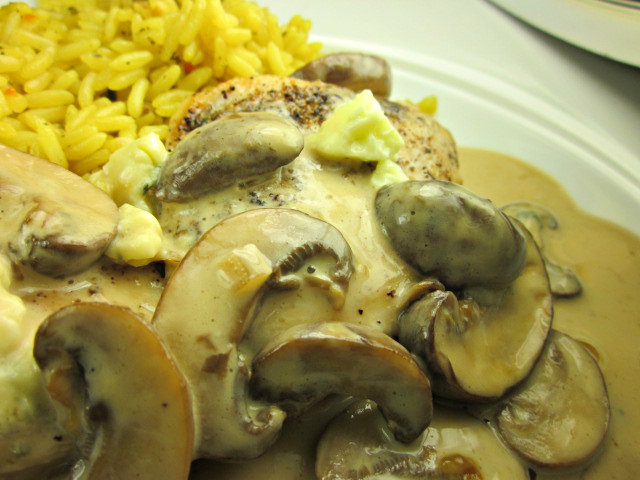 I hope you enjoy and let me know if you give it a try!
Chicken Marsala with Gorgonzola
Serves: 4
Calories: 514
Prep Time to Table: 20 minutes
Recipe : Taste of HOme
Ingredients:
-4 boneless skinless chicken breast halves (6 ounces each)
-1/4 teaspoon plus 1/8 teaspoon salt, divided
-1/4 teaspoon pepper
– 3 tablespoons olive oil, divided
-1/2 pound sliced baby portobello mushrooms
-2 garlic cloves, minced
-1 cup Marsala wine
-2/3 cup heavy whipping cream
-1/2 cup crumbled Gorgonzola cheese, divided
Preparation:
-Sprinkle chicken with 1/4 teaspoon salt and pepper. In a large skillet, cook chicken in 2 tablespoons oil over medium heat for 6-8 minutes on each side or until a thermometer reads 170°. Remove and keep warm.
-In the same skillet, saute mushrooms in remaining oil until tender. Add garlic; cook 1 minute longer.
-Add wine, stirring to loosen browned bits from pan. Bring to a boil; cook until liquid is reduced by a third. Stir in cream and remaining salt. Return to a boil; cook until slightly thickened.
– Return chicken to pan; add 1/3 cup cheese. Cook until cheese is melted. Sprinkle with remaining cheese
Notes: