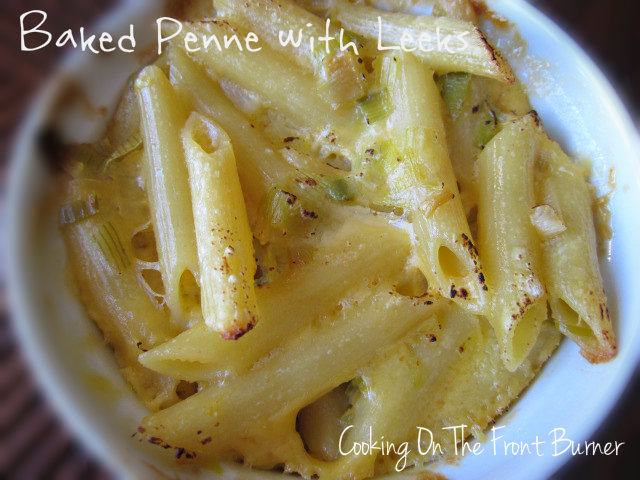 One of my new year's resolutions is to go through the many magazines that I've collected over the last couple of years. My collection includes – Food Network, Cooking Light, Sandra Lee (now defunct), Taste of Home, Bon Appetit, Better Home and Gardens and a few other strays (I had over 200!). Yikes, I was running out of storage room. So….every day since last Sunday I've been sitting down with a stack, my trusty exacto knife and cutting out the ones I would like to try. The above is one of those…. I love mac-n-cheese recipes! I keep trying to find "the one!" Leeks sounded good too – in the last couple of years I've just started cooking with them and have to say they add a nice flavor to many dishes….
Recipe Source: Bon Appetit March 2009
On New Year's Eve, we decided to stay put and fire up the grill with some tasty burgers (it was 6 degrees but that didn't stop us!) The original recipe called for it to be made in a large baking dish but I used 4 ramakiens – a perfect side dish. We both really enjoyed it!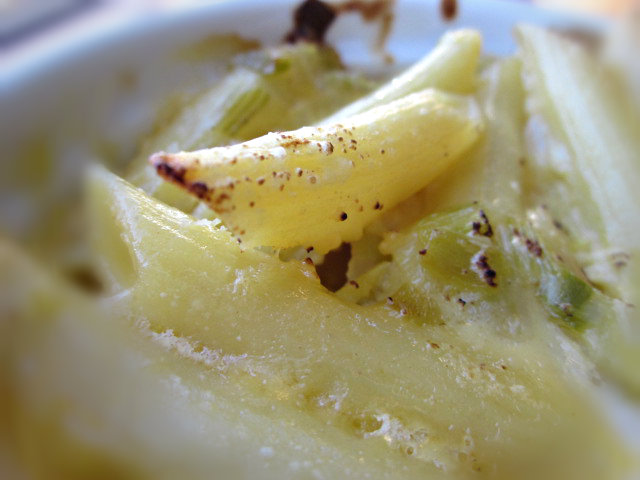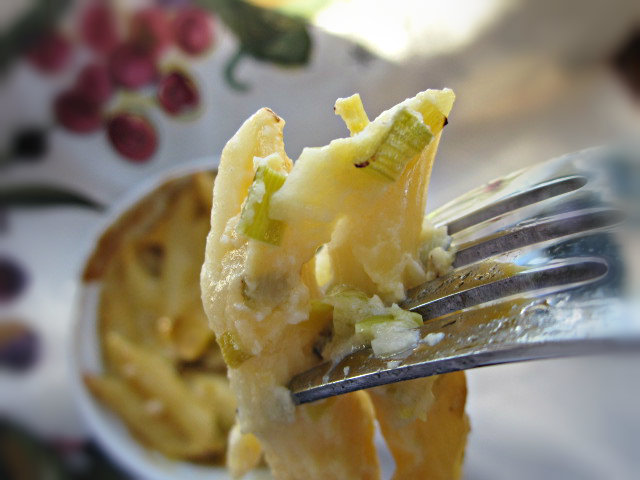 I would love to know if you have a favorite mac-n-cheese recipe to share…

Baked Penne with Cheddar and Leeks
Serves: 4
Calories: na
Prep Time to Table: 1 hour
Recipe : Bon Appetit March 2009
Ingredients:
• 1/8 cup butter
• 2 1/2 cups chopped leeks (white and pale green parts only)
• 1/8 cup all purpose flour
• 1 3/4 cups whole milk
• 1/2 pound extra-sharp cheddar cheese, coarsely grated
• 1 1/2 tsps Dijon mustard
• 1/2 teaspoon hot pepper sauce
• 1 large eggs
• 1/2 pound penne pasta
Preparation:
1. Lightly butter 4 ramakins. Melt butter in heavy large saucepan over medium heat. Add leeks; stir to coat. Cover saucepan and cook until leeks are tender, stirring occasionally, about 12 minutes (do not brown). Uncover saucepan; add flour. Stir 2 minutes. Add milk; bring to simmer, stirring often. Add cheese, mustard, and pepper sauce. Stir until cheese melts. Remove from heat. Season cheese sauce to taste with salt.
2. Whisk egg in medium bowl. Gradually whisk in 1 cup cheese sauce (this prevents egg from "cooking"-do slowly). Stir egg mixture into cheese sauce in saucepan.
3. Meanwhile, cook pasta in large pot of boiling salted water until just tender but still firm to bite, stirring occasionally. Drain. Return to pot.
4. Stir cheese sauce into pasta in pot. Transfer to prepared ramakins.
5. Preheat oven to 400°F. Bake pasta until cheese sauce is bubbling around edges and some ends of pasta are golden brown, 20 to 25 minutes
6. Let stand 15 minutes.
Notes: