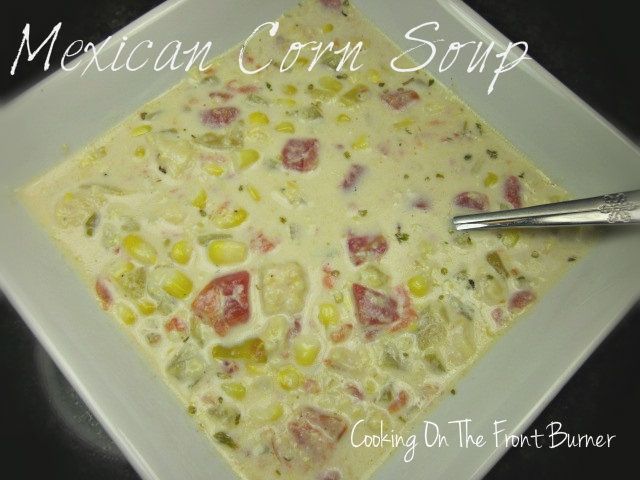 Tonight concludes my 3rd night of soup recipes! I think I've soup'ed out the DIY guy but he really enjoyed this one. I told him I would make some other type of meals soon!
This is a cream style soup and made that way by pureeing corn and chicken broth. The original recipe called for 2 cups of skim milk but I used a cup of that and a cup of heavy cream. I know it added a few more calories but the texture was just right.
Recipe Source: Adapted from BH&G Low Calorie recipes
From start to finish this soup came together in 20 minutes! Not too shabby!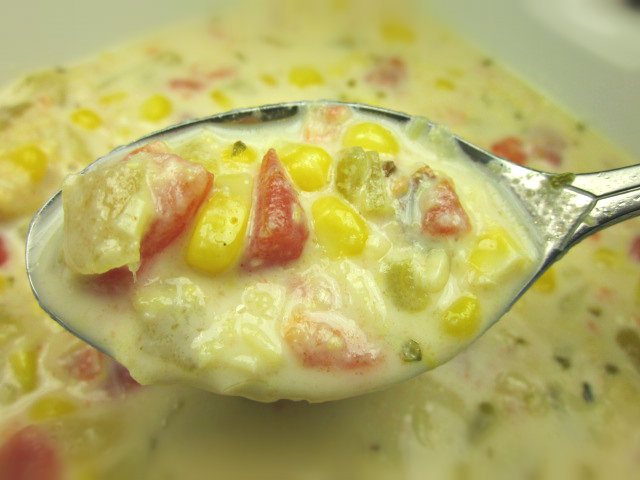 With Christmas now just 4 days away, I will be spending the weekend making cookies, pasta sauce and homemade raviolis. Looking forward to the good food and the family coming home!!!
Mexican Corn Soup
Serves: 4
Calories: NA
Prep Time to Table: 20 minutes
Recipe : inspired from BH&G Low Calories
Ingredients:
-16 oz frozen corn, thawed
-1 cup chicken broth
-1 4 oz can diced green chilies
– ½ tsp minced garlic
-1 tsp dried oregano
-1/2 tsp ground cumin
-2 cups milk (I used one cup skim, one cup heavy cream)
-1 cup diced cooked chicken
-1 15 oz can diced petite tomatoes, well drained
-1 cup shredded Monterey Jack cheese
Preparation:
1. In blender combine half of corn and broth and puree
2. In large pan add corn puree, remaining corn, chilies, garlic and oregano – season with S&P. Bring to boil and simmer uncovered 10 minutes
3. Add milk and chicken to heat through
4. Remove from heat and add cheese , stir until melted
Notes: