Here on my 2nd day of soup recipes, is an easy, peasy recipe that you should definitely put on your must try list! About a week ago I was checking FB and came across a friend posting a picture of her making this soup…it looked awesome! I'm a fan of cheese tortellini and spinach so I wrote down what ingredients I needed and set off to the store. This soup as it all – pasta, meat (chicken) and veggies – a nice hearty soup and I kicked it up a notch by putting some pecorino romano cheese on top! We both really enjoyed this and tastes great as leftovers too!
Recipe Source: Courtesy of Bridget on FB (from her sister Maureen)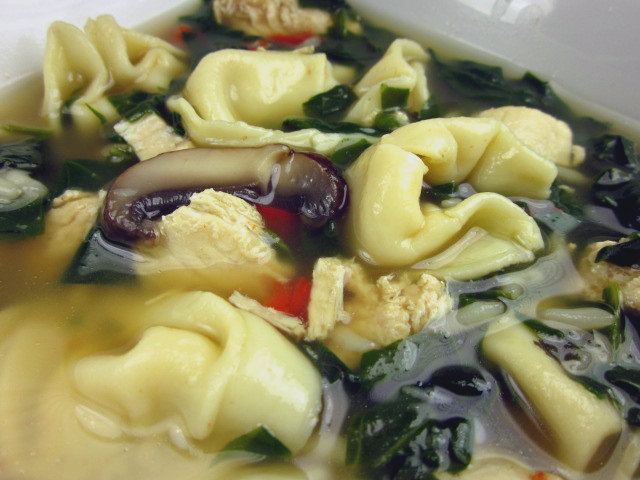 Spinach Tortellini Soup
Serves: 8
Calories: na
Prep Time to Table: 20 minutes
Recipe : "Dorsey Girls"
Ingredients:
-1 lb diced cooked chicken
-64 oz. chicken broth
-9 oz cheese tortellini
-1 lb spinach, coarsely chopped and no stems
-1 medium red pepper diced
-1/2 lb baby bella mushrooms sliced
-1 cup cooked white rice
-1 tsp oregano
-1 tsp basil
Preparation:
Bring broth to boil and add tortellini. Boil 6 minutes and then add remaining ingredients and simmer for about 10 minutes.
Notes: good with parmesan cheese