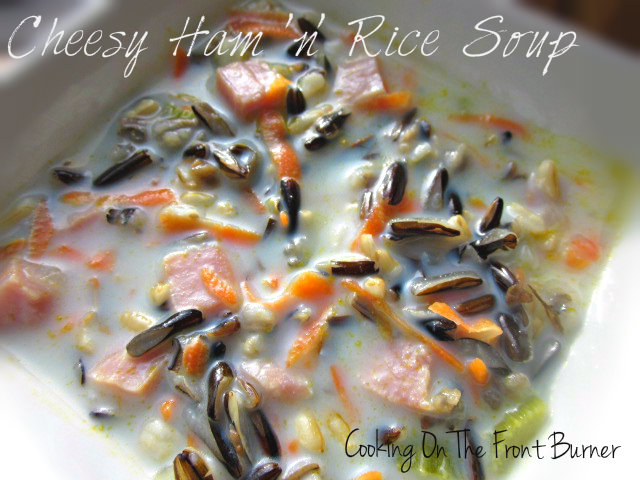 Welcome to soup week! For the next three nights I will be featuring a "new to me" soup recipe. I'm just in that mode… I find it very comforting and seems to fill me up quicker (now I just need to stay away from the open bag of chocolate chips in the cupboard!)
First up is a recipe I found and tweaked a bit from Taste of Home. The person who submitted the recipe said it similar to a popular restaurant in the Twin Cities… any ideas out there who makes this?
Recipe Source: Taste of Home Heartwarming Soups 2008
I love wild rice with its nutty type flavor and heartier texture. Me and the DIY guy really enjoyed this and had a lot of leftovers…. so I think unless you are feeding a large crowd, I would halve it. You will still have some leftovers but it will be more manageable… enjoy!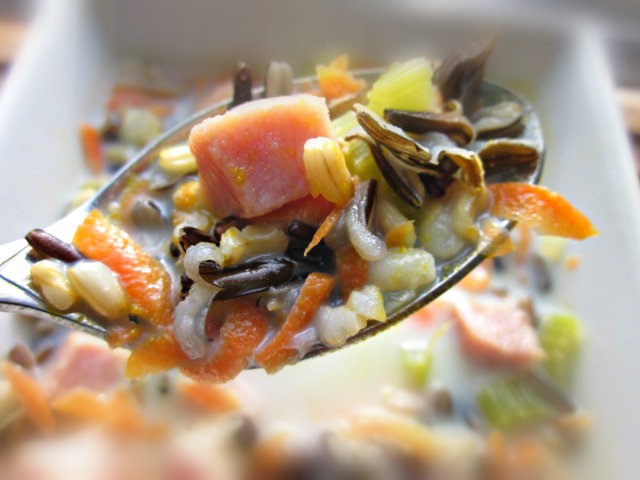 Cheesy Ham 'n' Rice Soup
Serves: 12
Calories: na
Prep Time to Table: 60 minutes
Recipe : Adapted from Taste of Home
Ingredients:
-4 celery ribs diced
-1/2 cup chopped onion
-1/4 cup butter
-4 medium carrots shredded
-1/3 cup flour
-1 tsp salt
-2 cups half and half
-8 oz velvetta cubed
-4 cups cooked wild rice
-3 cups diced ham
-2 ½ cups cooked brown rice (I used Uncle Bens)
-64 oz chicken broth
Preparation:
1. In dutch oven or large soup kettle, melt butter and sauté celery and onion until tender. Add carrots and cook and stir for 1-2 minutes. Add flour, S&P and stir for about 2 minutes. Add half-n-half but be sure to warm it up a bit first
2. Bring to boil and stir and cook for 2 minutes. Remove from heat and stir in cheese until melted.
3. Add in both rices and chicken broth. Return to boil and simmer on low for 10 minutes.
Notes: