I'm in soup mode… especially ones that come together quick and are loaded with lots of good stuff! This one has a southwest flair and I kicked it up a notch by adding cheese, crushed tortilla chips and a jalapeno. It really hit the spot on one of our cold Minnesota nights!
Recipe: Adapted from Taste of Home
Since this recipe makes a large amount, it's great for leftovers… we enjoyed it another night and thought the flavors held up quite well. In addition, you might want to add some sour cream in place of the cheddar or in addition.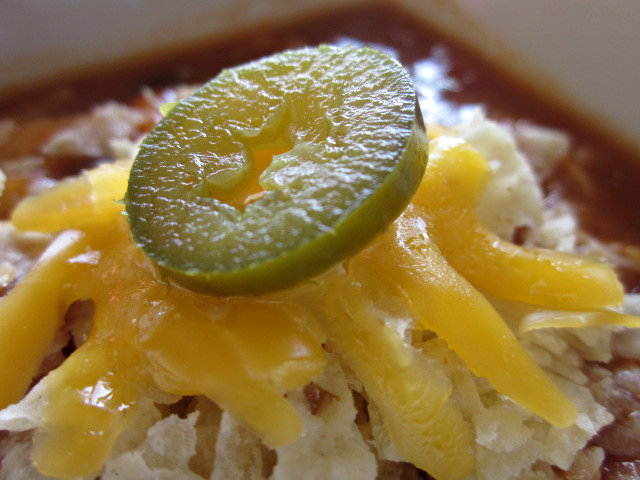 Enjoy and keep warm!

Southwest Chicken Barley Soup
Serves: 12
Calories: na
Prep Time to Table: 60 minutes
Recipe : adapted from Taste of Home
Ingredients:
-1/2 c chopped onion
-1 garlic clove minced
-1 T olive oil
-1 can (15 oz.) corn, drained
-3 cups water
-1 can (15 oz.) black bean drained and rinsed
-1 can (15 oz.) tomato sauce
-1 can (15 oc.) diced tomatoes, undrained
-1 can chicken broth
-1/2 cup barley
-1 can (4 oz.) chopped green chilies
-1 tsp cumin
-3 cups cooked chicken, diced
Preparation:
In dutch oven or large soup pot, sauté onion and garlic in oil until tender. Add next 10 ingredients (unless you are using quick barley-if so, add at appropriate cooking time). Bring to boil, reduce heat, cover and simmer 45 minutes.
Stir in chicken and cook additional 10 minutes
Garnish with crushed tortilla chips, cheese and jalapeno if desired
Notes: