A couple weeks ago as I was checking out some of the sites I frequent, I came across the Get Your Chef On challenge. It's kind of like the Iron Chef America only the host doesn't have crazed eyes, a camera doesn't follow me around and I don't need to create 5 dishes from the secret ingredient (though I think I could!). Today's secret ingredient is:
C-R-A-N-B-E-R-R-I-E-S
Hosted by:
Jen @ Four Marrs and One Venus
Julie @ White Lights On Wednesday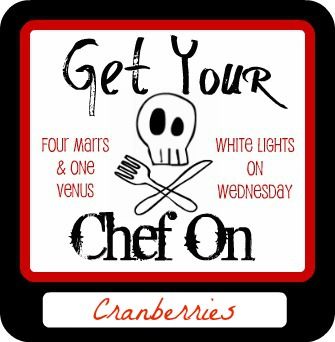 I love cranberries and what a great time of the year to bake with these and combined with orange, well – it's the best!
Recipe Source: adapted from My Recipes
Cranberry Orange Bread
Serves: makes 2 big or 6 small loaves
Calories: na
Recipe : adapted from My Recipes
Ingredients:
• 1 1/2 cups unsalted butter, softened, plus more for buttering pan
• 1 1/2 cups sugar
• 4 eggs
• 1 cup orange juice
• 1 cup sour cream
• 2 tablespoons freshly grated orange zest
• 2 teaspoons vanilla extract
• 4 cups all-purpose flour
• 1 tablespoon baking powder
• 1/2 teaspoon salt
• ½ cup dried cranberries
• 1 cup fresh cranberries chopped
• 2 cups powdered sugar
• 4 tbsp. Grand Marnier or other orange liqueur
• 2-3 tbsp. milk
Preparation:
1. Preheat oven to 330°. Butter two pans of your choice
2. With an electric or standing mixer on medium speed, cream butter and sugar together in a large bowl until pale and fluffy, about 3 minutes. Add eggs one at a time, mixing well after each. Add orange juice, sour cream, orange zest, and vanilla; mix until blended.
3. In a separate bowl, whisk together flour, baking powder, and salt. Add flour mixture and cranberries to wet ingredients and mix just until dry ingredients are absorbed; do not overmix.
4. Pour batter into prepared loaf pans. Bake until a toothpick inserted in centers of breads comes out clean, 70 to 75 minutes for large loaves and 50-55 minutes for mini loaves.
5. Meanwhile, in a small bowl, whisk together powdered sugar, 4 tbsp. Grand Marnier and 3-4 tbsp milk. Glaze should have consistency of thick maple syrup or corn syrup. If it is too thick, thin with an additional tbsp. of milk.
6. Let loaves cool in pans for 10 minutes, then remove and transfer to a cooling rack set over a large baking sheet. With a thin skewer or long toothpick, poke deep holes in tops of loaves. Drizzle with Grand Marnier glaze so that it coats the top, runs down the sides, and seeps through the holes.
7. Let loaves cool completely, then slice and serve, or wrap and freeze
Notes:
document.write('