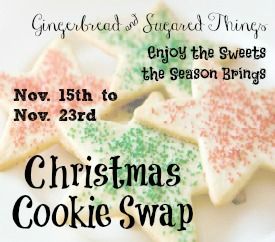 Hmmm… are you starting to think about what cookies you want to make this year, or need some ideas? Do you set out cookies for Santa, belong to a cookie exchange, or just make them for your family? If so, I think you will like this idea! I was asked to co-host, along with some other fun bloggers, an on-line cookie recipe exchange. This exchange is unique because you just mail a recipe not the actual cookies (no fuss and no crumbs!).
Your other bakers are:
Julie @ White Lights on Wednesdays
Jamie @ Mom's Test Kitchen
Carrie @ My Favorite Finds
Michelle @ Michelle's Tasty Creations
Carrie @ The Fugal Foodie Mama
Kim @ The Sunflower Club
Be sure to stop by and say hello!
Starting today if you would like to participate, click on the sign-up button below to fill out the form. By signing up, you agree to snail mail a handwritten copy of your cookie recipe to your partner. And you also agree to make the recipe sent to you and share photos and the recipe in a blog post. (Please note, if you don't have a blog, no worries!, just email Julie at whitelightsonwednesday@yahoo.com your photos, recipe and thoughts on the experience and one of us will share on our blog). You will receive by email your assigned partner on November 26 and would ask you mail out the recipe by November 29th (note you will receive a recipe from a different partner).
December 13th is the reveal day and you will be able to link up what you made and check out the the other goodies (so come back to link up!!).
**There is a place to note if you have food allergies or dietary preferences in your house that your sender should be conscious of (having a partner with the same diet preferences as you, is possible)
Are you ready to start baking & get in the Christmas cookie spirit?