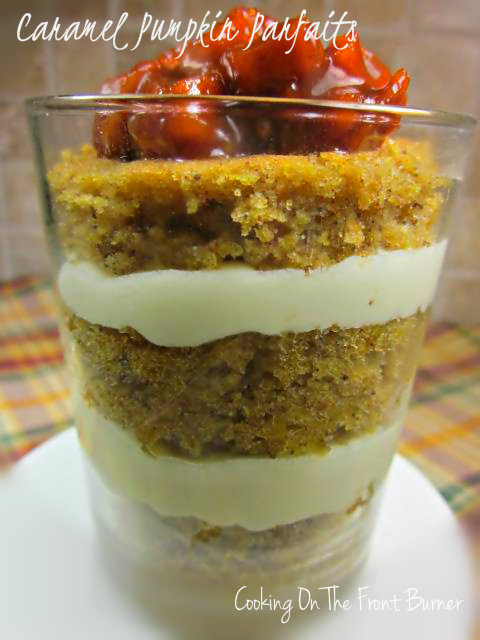 Last weekend, as I posted earlier, we moved our piano to our daughter's place. I made soup for the crew and also wanted to bring a fun dessert for everyone. I had in mind the the flavors of pumpkin, caramel and apples. And being a fan of mini desserts, I pulled out these cute glasses from IKEA (PS I have gotten so much use from these!)
To keep it semi-easy, I bought a Pumpkin Bread and Muffin Mix from Trader Joes. Instead of making it into a loaf, I lined a jelly roll pan with greased parchment paper, baked at 350 until done, let it cool a bit and then flipped it on board. I used a biscuit cutter to cut out the circles.
The filling was made by combining 1 cup soft butter with 8 oz soft cream cheese, to that add about 3 cups of powdered sugar and beat until creamy. Last step is adding 1/2 caramel topping (I wanted mine a bit more caramel flavor so I added a Tbl of caramel syrup)
To assemble – layer cake, some filling, cake, more filling and ending with the cake.
The last step I made my own apple topping but you could keep it easy and buy some apple filing (I would dice them up). If you want to make your own: place 2 peeled and diced apples, 8 Tbls brown sugar and 2 Tbls of white sugar in a saucepan on high heat and stir until juices start to happen. Add 2 Tbls lemon juice and 2 Tbls of cinnamon (you could cut back on amount, this is why my apples are very dark in color but it tasted just fine) – keep stirring until the apples are soft then add a mixture of 2 Tbls cornstarch with 2 Tbls of lemon juice and stir until thickened. (Be sure to mix the cornstarch and lemon juice well so that you don't end up with lumps)
These could be eaten right away or refrigerated until needed. I did not add the apples until we were ready to serve and then warmed them up again. Results: I had 6 thumbs up!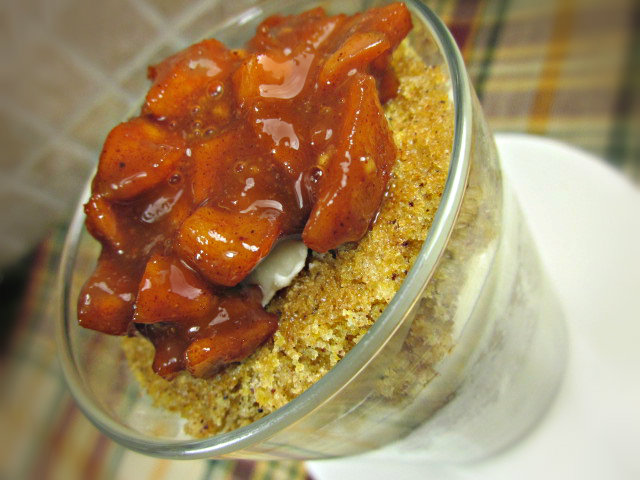 Happy Fall!