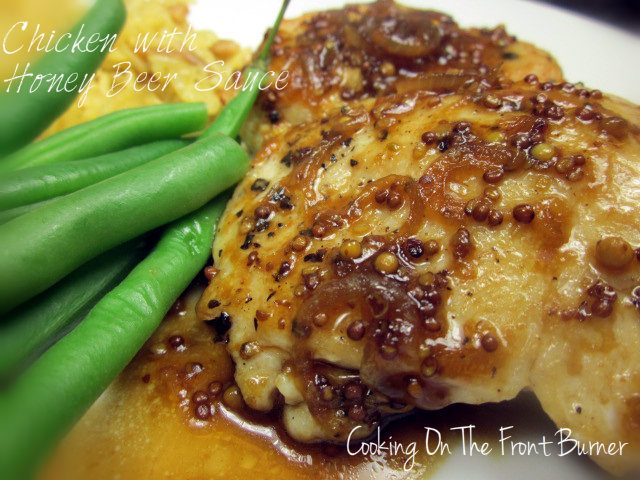 Cluck… yep here's another chicken recipe. What can I say? Chicken is definitely one of the easier dishes to prepare and a healthier option; also from pan to table it took about 20 minutes. I'm still loving my Uncle Ben's 90 second rice (I do use different varieties though) and the green beans that steam in the bag are a quick and healthy choice too.
The sauce is made from a small amount of beer – I didn't use a light beer and preferably a dark is best for the hearty flavor – and you could drink what is leftover (The Fisherman did that for me…no wasting here!) Hope you enjoy this one and I'll try to find a non-chicken recipe soon!
Recipe Source: Cooking Light October 2012
Chicken with Honey Beer Sauce
Serves: 4
Calories: 245
Prep Time to Table: 20 minutes
Recipe : Cooking Light
Ingredients:
2 teaspoons Olive oil
4 (6-ounce) skinless, boneless chicken breast halves
1/4 teaspoon freshly ground black pepper
1/8 teaspoon salt
2 tablespoons thinly sliced shallots
1/2 cup beer
2 tablespoons lower-sodium soy sauce
1 tablespoon whole-grain Dijon mustard
1 tablespoon honey
2 tablespoons fresh flat-leaf parsley leaves (opt)
Preparation:
1. Heat a large skillet over medium-high heat. Add oil to pan; swirl to coat. Sprinkle chicken evenly with pepper and salt. Add chicken to pan; sauté 6 minutes on each side or until done. Remove chicken from pan; keep warm. Add shallots to pan; cook 1 minute or until translucent. Combine beer and next 3 ingredients (through honey) in a small bowl; stir with a whisk. Add beer mixture to pan; bring to a boil, scraping pan to loosen browned bits. Cook 3 minutes or until liquid is reduced to 1/2 cup. Return chicken to pan; turn to coat with sauce. Sprinkle evenly with parsley (opt).
Notes: