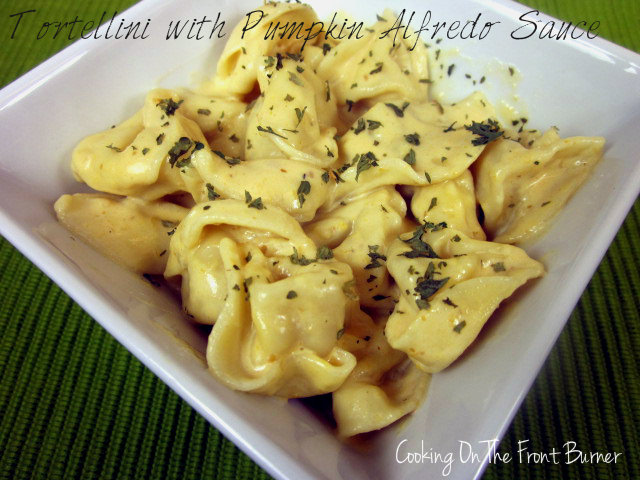 So tonight I was preparing dinner and The Fisherman walked in… his nose picked up on one of his favorites – sausage and peppers (because I knew I had to have some meat with this meal!). Then he walked over to see what else I was making and he took a look at my magazine and said "Oh, you are making a kids' meal." I'm like, no, but then I read the BIG letters that said Fun Cooking, Kids' Meal – don't know how I missed that! But regardless of how it was marketed, we both loved this dish – he had it as a side and I had it as a main course.
Recipe Source: Food Network Magazine October 2012
I liked it because 1) it was super easy and 2) the sauce had just the right amount of pumpkin and grated fresh nutmeg (I really suggest getting some of these – mine came from Penzey's Spices). It's a dish away from the norm but one you'll probably make several times. Enjoy!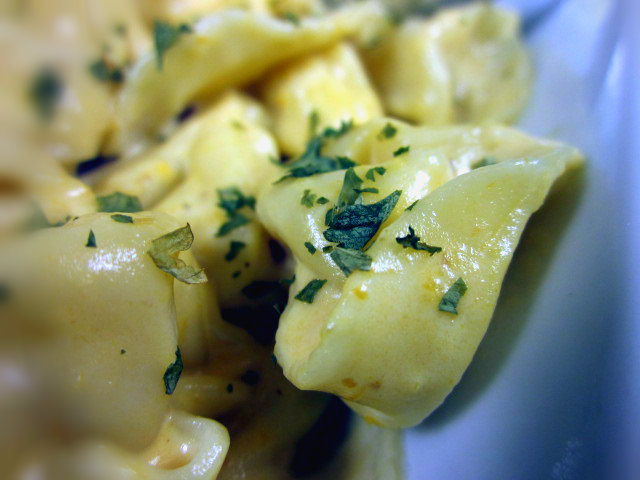 Tortellini with Pumpkin Alfredo Sauce
Serves: 4
Calories: NA
Prep Time to Table: 30 minutes
Recipe : Food Network Magazine Oct 2012
Ingredients:
• Kosher salt
• 2 9-ounce packages cheese tortellini
• 1 tablespoon unsalted butter
• 1 small shallot, finely chopped
• 1/2 cup canned pure pumpkin
• Pinch of freshly grated nutmeg
• 1 1/4 cups heavy cream
• 1/4 cup grated parmesan cheese, plus more for topping
• Freshly ground pepper
• Chopped fresh parsley, for topping (optional)
Preparation:
Bring a large pot of salted water to a boil. Add the tortellini and cook as the label directs. Reserve 1/2 cup cooking water, then drain the pasta.
Meanwhile, heat the butter in a skillet over medium-high heat. Add the shallot and cook, stirring, until slightly soft, about 2 minutes. Add the pumpkin and nutmeg and cook, stirring, 1 minute. Stir in the cream and bring to a low boil. Reduce the heat to medium low; simmer, stirring, until slightly thickened, about 5 minutes. Stir in the cheese and cook until thick, about 1 more minute. Season with salt and pepper.
Add the tortellini to the skillet and toss with the sauce, adding some of the reserved cooking water to loosen, if needed. Divide among bowls and top with more cheese and parsley.
Notes: