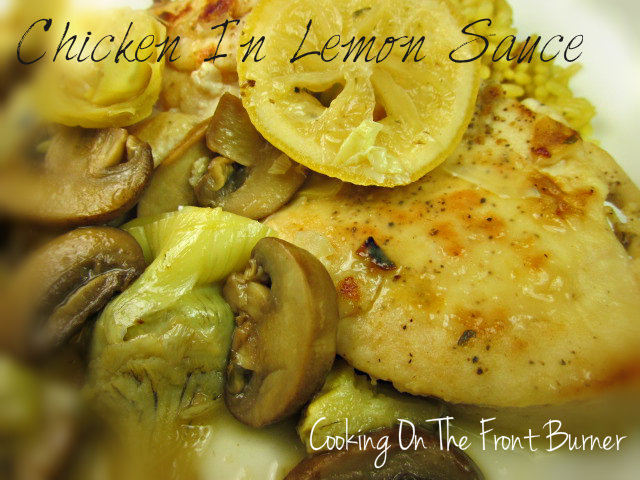 Since we are back from vacation, it is time to get serious about getting back in the kitchen. I pulled out some cookbooks, food magazines and lurked around Pinterest to get some new recipes to try. This recipe caught my eye due to my favorite flavor – lemons. To me, lemons just have a fresh flavor and I love the little tartness they provide. This was also interesting because the lemons are roasted before adding to the sauce – that was a new way to prepare them for me and quite tasty!
I served this dish with a side of rice but the next time I think it would work well over angel hair pasta. The sauce would be delicious with that and along with the baby bellas and artichokes, would make a complete meal.
Recipe Source: Adapted from For the Love of Cooking
PS – it you aren't a fan of artichokes, they could be left out but I would definitely keep the shrooms!
Chicken In Lemon Sauce
Serves: 4
Calories: NA
Prep Time to Table: 40 minutes
Recipe : adapted "For the Love of Cooking"
Ingredients:
• 4 -4 oz. chicken breasts pounded thin
• 1/4 cup flour
• Salt and pepper to taste
• 2 tbsp olive oil
• 8 oz sliced baby bella mushrooms
• 1 shallot diced
• 2 cups chicken broth
• 1 can of artichoke hearts (not marinated), drained
• 2 lemons
• 2 tsp butter
• Cooking spray
• 1 tsp dried parsley
Preparation:
1. Preheat oven to 325 degrees. Zest one half of a lemon and set aside for juicing later. Slice into thin rings the remaining lemons and place on a baking sheet lined with parchment paper and brush with olive oil and a sprinkle of salt. Bake for 20-25 minutes until the edges start to brown. Remove from oven and set aside.
2. Heat a skillet with 1 tbsp of olive oil. Add mushrooms and cook until golden brown then add the shallots and sautee for a one minute. Remove from skillet and set aside.
3. Dredge the chicken in flour. In a large skillet over medium-high heat, add 1 tbsp olive oil (and a coating of cooking spray) then add the chicken breasts and cook for 3 minutes before turning over. Remove from skillet. Add chicken broth, parsley, lemon slices, mushrooms, artichoke hearts, lemon juice (from reserved 1/2 lemon), lemon zest, and butter. Bring to a boil and simmer about 7 minutes until reduced some and slightly thickens; add chicken in and simmer one additional minute. This is great served over pasta.
Notes: