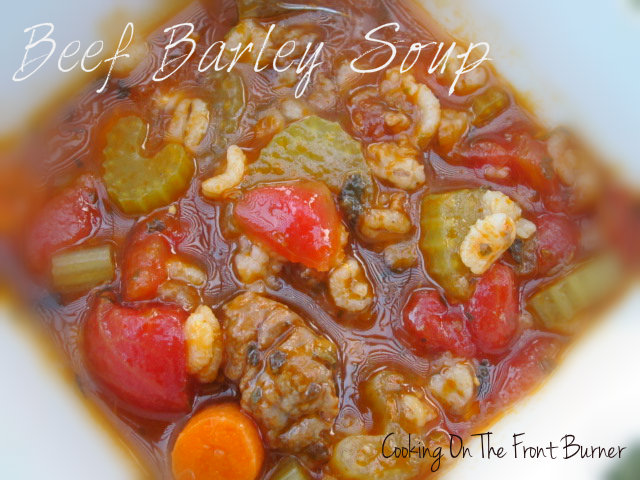 This past Sunday was our first day back from vacation and I was craving a comfort type meal. Something not too fancy but simple and tasty. We had been dining out for ten days – which was great – but needed to get back to some basics. Plus the weather was cooler and a soup recipe just seemed to fit the bill.
I've made this soup before but changed up the recipe some and really like how this version turned out. The simple part is after browning the meat, the remaining ingredients (minus the barley) gets added to the pot and simmers for 50 minutes. The barley (quick style) goes in for the last 10 minutes. Just need to stir it a couple times while it cooks – so also no fuss!
Recipe Source: Semi-original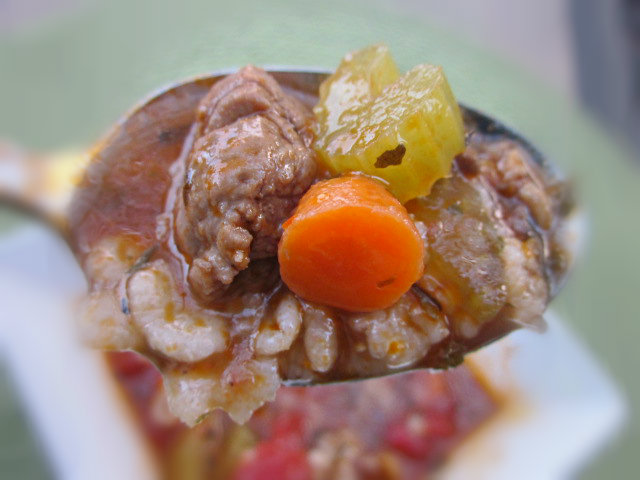 So, what do you crave after coming back from a vacation? Do you wish you were still eating out? Do you have a favorite home-style meal that you prepare? Or do you feel like eating nothing and detoxing?? I was in between a homey meal and detoxing!
Beef Barley Soup Version2
Serves: 8
Calories: N.A.
Prep Time to Table: 90 minutes
Ingredients:
– 2 lbs. beef stew meat; 1" cubes
– 1 Tbl olive oil
– 6 cups water
-2 cups beef broth
– 2 cups chopped celery
– 1 cup chopped carrots
– 1 shallot diced
– 1 (15 oz.) can diced tomatoes (juice too)
– 3 Tbl tomato paste
– 1 cube beef bouillion
– 2 tsp dried oregano
– 1 tsp dried thyme
– 2 tsp dried basil
– 2 tsp dried parsley
– ½ tsp salt
– ¼ tsp pepper
– 4 ounces red wine
– 1 cup quick-cooking barley
Preparation:
1. In dutch oven or soup pot, brown meat in oil and cook until most liquid evaporates on medium-high heat (about 15 minutes); add shallot about 5 minutes before
2. Add water, celery, carrots, onion, tomatoes, tomato paste, bouillon, seasonings and wine.
3. Bring to boil, reduce heat, cover and simmer for 50 minutes.
4. Stir in barley and simmer an additional 15 minutes
Notes: