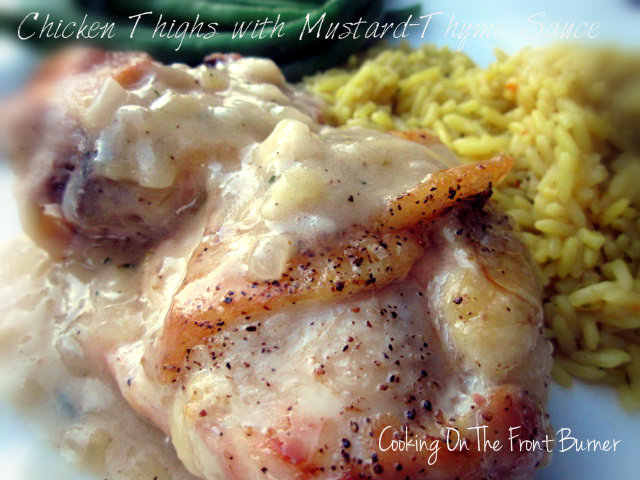 I love when my new Cooking Light magazine comes… I go through it from cover to cover and bookmark those recipes I know I have to try. This one caught my attention because its made with chicken thighs and The Fisherman is a "bone-in" type of guy. He thought this dish was quite tasty and the dijon mustard and thyme gave it great flavor. Glad he enjoyed it and hope you do too if you give it a try!
Recipe Source: Cooking Light October 2012
From start to finish it took about 30 minutes and I served it with steamed green beans and my favorite Uncle Ben's 90 second rice… (if you follow the exact recipe you will need to remove the skin – I forgot – so a few more calories for us!)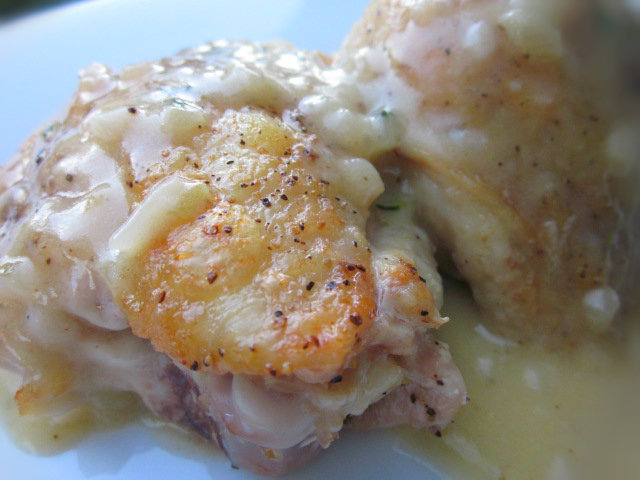 Roasted Chicken Thighs with Mustard-Thyme Sauce
Serves: 4
Calories: 246
Prep Time to Table: 30 minutes
Recipe : Cooking Light October 2012
Ingredients:
– 1 tablespoon olive oil
– 8 bone-in chicken thighs, skinned (about 2 1/2 pounds)
-1/2 teaspoon salt, divided
– 1/2 teaspoon freshly ground black pepper, divided
– 1 tablespoon butter
– 1/2 cup chopped onion
– 2 teaspoons chopped fresh thyme
– 1 cup no-salt-added chicken stock (such as Swanson), divided
– 4 teaspoons flour
– 1 teaspoon Dijon mustard
Preparation:
1.Preheat oven to 425°.
2. Heat a large nonstick skillet over medium-high heat. Add oil to pan; swirl to coat. Sprinkle chicken with 1/4 teaspoon salt and 1/4 teaspoon pepper. Add chicken to pan; cook 4 minutes on each side or until lightly browned. Remove chicken from pan; place in an 11 x 7–inch glass or ceramic baking dish. Bake at 425° for 16 minutes or until a thermometer registers 165°. Remove chicken from dish; reserve drippings.
3. Return skillet to medium-high heat. Add butter; swirl to coat. Add onion and thyme; sauté 5 minutes or until tender. Combine 3 tablespoons stock and flour in a small bowl, stirring with a whisk until smooth. Add flour mixture, remaining stock, and reserved drippings to pan, scraping pan to loosen browned bits. Bring to a boil, and cook for 2 minutes or until slightly thickened. Remove from heat, and add mustard, remaining 1/4 teaspoon salt, and 1/4 teaspoon pepper, stirring with a whisk. Serve sauce with chicken.
Notes: