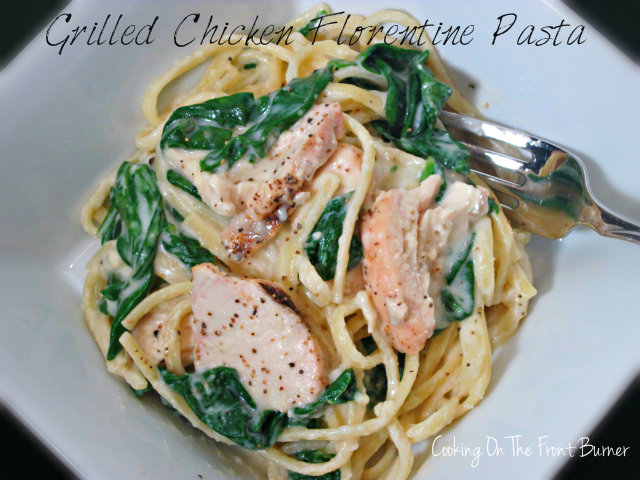 Here's a tasty dish that combines a bit a summer with a bit of my favorite… pasta! The chicken is grilled and added to the remaining ingredients with a creamy white sauce. It comes close to an alfredo type dish and is quite tasty…
Recipe Source: Adapted from Cooking Light
I changed up the recipe by using shallots instead of garlic and since I didn't have the whole milk, I substituted 1/2 cup heavy cream and 1/2 cup skim milk – that should equal whole milk, right 🙂 I also love the color and flavor from the baby spinach.
Hope you enjoy it if you try!
Grilled Chicken Florentine Pasta
Serves: 4
Calories: NA
Prep Time to Table: 30 minutes
Recipe : Adapted from Cooking Light Sept 2012
Ingredients:
-2 6 oz boneless chicken breast grilled and sliced thin
-S&P
-8 oz linguine
-2 T olive oil
-1 tsp minced shallot
-3 T flour
-1 cup Whole milk
-1 cup chicken brother
-3/4 cup grated parmesan or romano cheese
-4 cups fresh baby spinach
Preparation:
1. Season chicken with S&P and grill until done; let sit 10 minutes then slice thin
2. Cook pasta as directed and set aside and keep warm
3. In large skillet add olive oil, heat then cook shallot and flour for about 1-2 minutes stirring constantly
4. Add milk and broth with a whisk and simmer for 2 minutes then add cheese and stir until melted
5. Add spinach and additional S&P until spinach is wilted
6. Add pasta and chicken and serve!
Notes: