If you could love a meal, what would you pick? Is it possible to be in love with macaroni and cheese? I think I am! This was the most luxurious and palate pleasing dish… It has four cheeses – gruyere, monterey jack, blue cheese and romano – I wondered if it might be too much as I was preparing it but no, it was just right- great combo! It even has some fresh grated lemon zest, which for me as a lemon lover, really set it over the top…
Recipe Source: slightly adapted from Fine Cooking Fresh
Throw the calorie watching out the window, grab a fork and dig in – it's the cheesiest!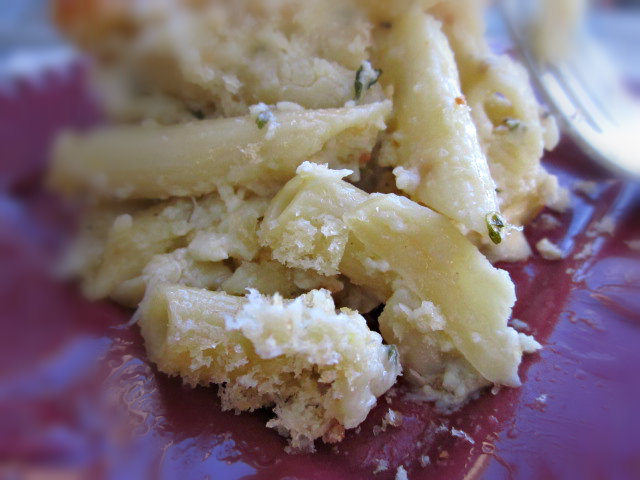 Luxurious 4 Cheese Macaroni and Cheese
Serves: 8
Calories: 710
Prep Time to Table: 20 minutes prep plus baking time
Recipe : Slightly adapted from Fine Fresh Cooking
Ingredients:
-3 cups whole milk
-4 Tbs. unsalted butter
-1/2 medium onion, finely diced
-1 bay leaf
-1/4 cup all-purpose flour
-Kosher salt and freshly ground black pepper
-Pinch freshly grated nutmeg
-1/4 tsp. Tabasco sauce; more to taste
-5 oz. Gruyère, coarsely grated (about 1-3/4 cups lightly packed)
-8 oz. blue cheese crumbled (about 2 cups)
-1 lb. dried penne rigate pasta
-1 Tbs. finely grated lemon zest
-11 oz. Monterey Jack, cut into 1/2-inch dice (2 cups)
-1 T dried parsley
-2 Tbs. fresh thyme leaves
-2-1/2 oz. Parmigiano Reggiano, freshly grated (scant 1 cup)
3/4 cup fresh breadcrumbs
Preparation:
Heat the oven to 350°F. Put a large pot of well-salted water on to boil.
Meanwhile, heat the milk in a small saucepan over medium-low heat to just below a simmer, stirring often to prevent scorching. Remove from the heat and cover to keep hot. Melt the butter in a medium saucepan over medium-low heat. Add the onion and bay leaf. Cook, stirring occasionally, until the onion starts to soften and becomes translucent, about 5 minutes. Add the flour and cook, stirring, for 2 minutes. Gradually whisk in the hot milk, bring to a simmer, and cook for 10 minutes, whisking frequently, until thickened and smooth. Season the white sauce with 1 tsp. salt, pepper to taste, the nutmeg, and the Tabasco. Remove and discard the bay leaf. Stir in the Gruyère and blue cheese.
Cook the pasta to al dente, following the package directions. Drain well and return to the pot. Toss the lemon zest and half of the Monterey Jack into the pasta while it's still hot; add the cheese sauce and quickly toss to combine. Stir in the parsley and thyme and transfer half of the pasta to a large (3-quart) shallow casserole or lasagna pan. Sprinkle with the remaining Monterey Jack and half the Parmigiano; top with the remaining pasta. Sprinkle with the remaining Parmigiano and the breadcrumbs. Bake until bubbly and golden, 50 to 60 minutes. Let rest for 5 to 10 minutes before serving.
Notes: even if you half the recipe, still use the same amount of breadcrumb.