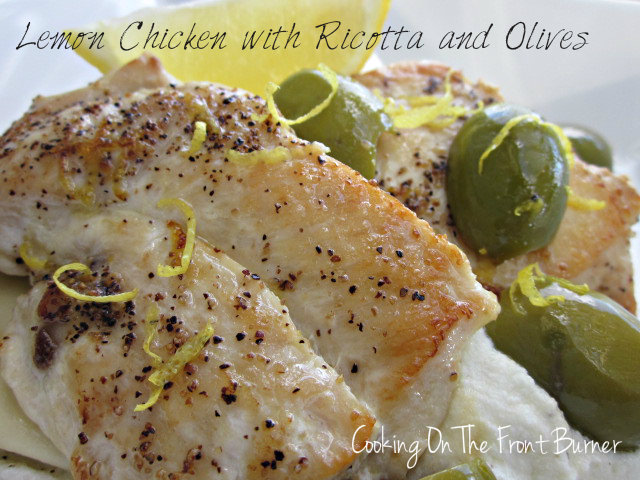 Here's another quick and easy meal that you can whip up in about 30 minutes with one of my favorite ingredients – lemons!
I'm attaching the original recipe but if I made it again, I would use different pasta. This called for no-boil lasagna noodles that you boil and then set aside while preparing the chicken. Well, I didn't really have good luck – I think they are no-boil for a reason – LOL – they were weird when done. I would substitute maybe a bit of those small mini lasagna noodles and mix it with the ricotta and then serve the chicken on top.
Recipe Source: B&HG 30 Minute Dinners
Overall the dish was quite tasty – I could also see kalamata olives instead if you like those better.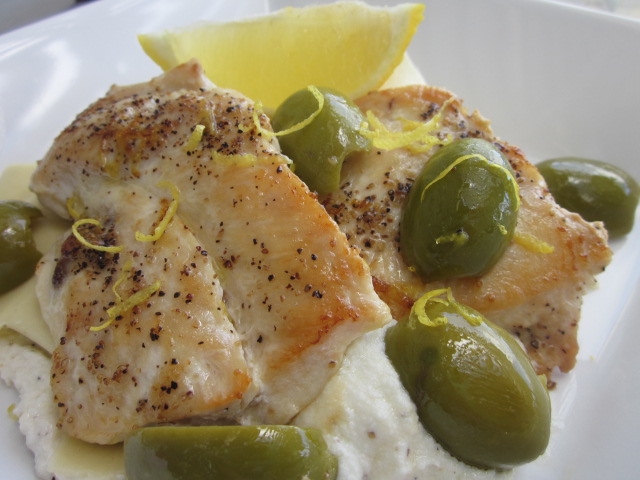 Lemon Chicken with Olives and Ricotta Cheese
Serves: 4
Calories: 443
Prep Time to Table: 30 minutes
Recipe : BH&G 30 minute dinners
Ingredients:
-8 No-boil (oven ready) lasagna noodles
– 2 T Olive oil
– S&P
-1 Meyer lemon or lemon
-4 small skinless, boneless chicken breast halves, halved crosswise
-1 cup garlic-stuffed or pitted green olives
-1 cup ricotta cheese
-Fresh Rosemary (optional)
Preparation:
1. In Dutch oven bring 3 inches water to boiling. Add noodles, cover and cook 6 minutes or until tender; drain. Lay noodles in single layer on waxed paper. Cover; set aside. (Or just cook your favorite noodles – I had bad luck with these noodles)
2. Meanwhile, shred peel from lemon; halve lemon. Juice 1 half, cut remaining into wedges. Season chicken with salt, pepper, and 1/2 of lemon peel. In skillet heat 2 tablespoons oil over medium-high heat. Add chicken. Cook 10 minutes or until no pink remains, turning once. Add olives; heat through. Remove from heat.
3. In microwave-safe bowl combine ricotta, the lemon juice and 1/2 teaspoon each salt and pepper. Microwave on 100 percent power (high) for 30 seconds stirring once.
4. Spoon ricotta mixture into bowls. Top with noodles, chicken, and olive mixture, remaining lemon peel, and the fresh rosemary.
Notes: