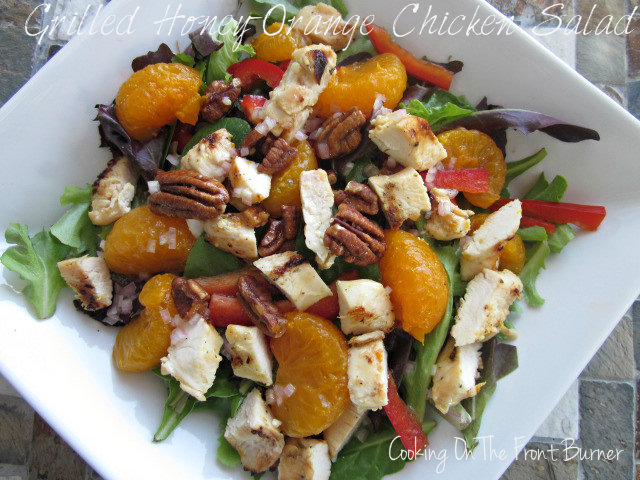 Here's a tasty salad that comes together quite quickly! The original recipe called for whole chicken breasts to be marinaded for 6-8 hours. Well, coming home from work I did not have time for that unless, of course, we wanted to eat at midnight so instead I cut them into strips and only marinaded for about an hour. The results were great! Chicken was nice and moist and really absorbed the flavor.
Recipe Source: adapted from BH&G Low Calorie meals
The red pepper was from our garden and with a few other ingredients, dinner was served!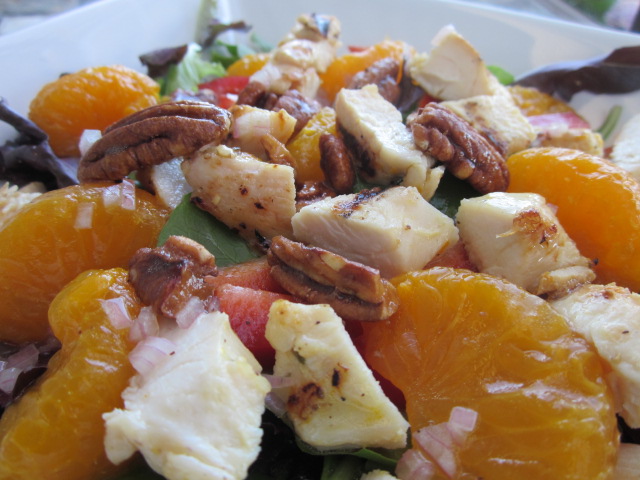 Grilled Honey-Orange Chicken Salad
Serves: 4
Calories: 320
Prep Time to Table: 10 minutes plus marinade time
Recipe : adapted from BH&G
Ingredients:
-14 oz. chicken strips
-4 cups salad greens
-1/2 medium red bell pepper, thinly sliced
-1/2 cup mandarin orange slices, drained well
-candied pecans
Marinade:
-1 tsp. orange zest
-1/3 cup orange juice
-1 clove garlic minced
-2 Tbsp honey
-1 t thyme crushed
Dressing:
-2 Tbsp olive oil
–
2 Tbsp rice vinegar
-2 Tbsp orange juice
-1 1/2 tsp. shallots, minced
-Salt and pepper, to taste
Preparation:
Combine ingredients for the marinade and pour over chicken in a resealable plastic bag. Allow chicken to marinate for an hour in the fridge, turning bag occasionally.
Drain chicken and cook on grill until done.
Mix together the ingredients for the dressing in a screw top jar and shake well (or whisk together in a bowl). Divide greens among 4 plates (or 2 for larger portions) and top with red peppers, oranges, chicken and pecans. Drizzle dressing over all.
Notes: