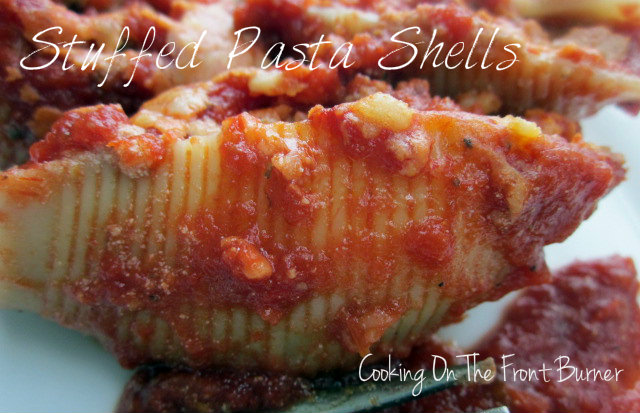 Here's a twist on stuffed shells that I had never seen before. The meat and cheese is mixed together along with the sauce before stuffing. It was like eating lasagna but only in a shell! Easy to put together and this recipe makes enough for 2 people to have about 6 meals! I froze some and we had leftovers one night.
Recipe Source: BH&G September 2011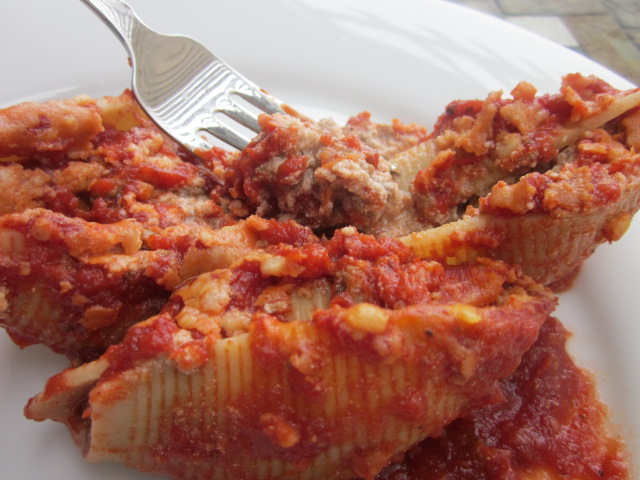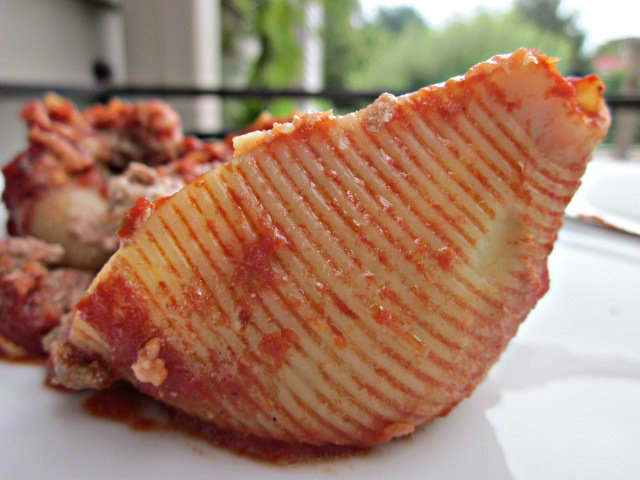 The Fisherman was a fan of the shells!
Stuffed Shells
Serves: 6-8
Calories: 537
Prep Time to Table: 50 minutes
Recipe : BH&G Sept 2011
Ingredients:
-12 oz. dried jumbo pasta shells
-3 T olive oil
-1 ½ lb lean ground beef
-2 cloves minced garlic
-2 28 oz. crushed tomatoes
-15 oz. whole ricotta cheese
-1 ½ cup parmesan or romano cheese
Preparation:
1.Preheat oven to 350 degrees F. Lightly oil a 15x10x1-inch baking sheet and a 3-quart oval or rectangular baking dish.
2. Bring a large pot of water, with 1 tablespoon salt added, to boiling. Add pasta shells and cook just until slightly tender, about 4 to 5 minutes. Drain pasta and spread in a single layer on baking sheet to prevent them from sticking together.
3. In a large skillet, heat 1 tablespoon of the olive oil over medium heat. Add beef and 1 clove of garlic. Season with salt and pepper. Cook and stir for 6 to 8 minutes, until no pink remains in beef. Transfer to a bowl; set aside.
4. For tomato sauce, in a second skillet over low heat combine remaining olive oil, remaining garlic, and undrained tomatoes. Season with salt and pepper. Bring sauce to a simmer over low heat; cook for 15 to 20 minutes until thickened somewhat.
5. Stir 1 1/2 cups of tomato sauce into cooled ground beef, then add ricotta and 2/3 cup of the Parmigiano; stir until combined.
6. Spoon 1 1/2 cups tomato sauce into prepared baking dish. Fill each pasta shell with about 1 tablespoon meat and cheese mixture. Arrange shells in prepared baking dish. Spoon remaining tomato sauce over shells, then sprinkle remaining 2/3 cup cheese.
7. Bake about 30 minutes, until filling is heated through and top is golden brown.
Notes: