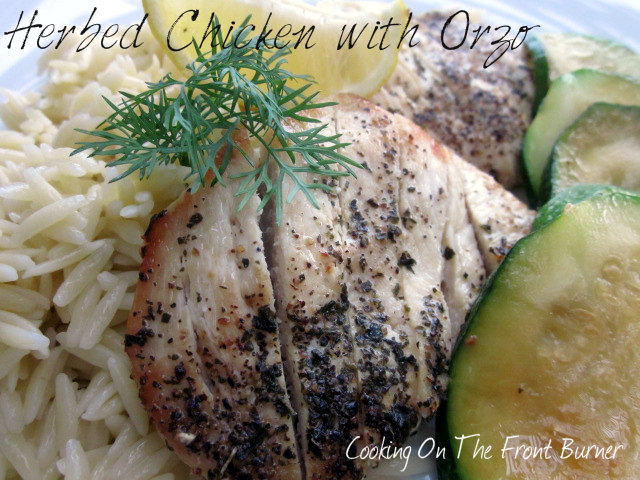 Hmmm…..what can you do with 20 minutes (or 1200 seconds)?- read a couple chapters of a book, watch a tivo'ed sitcom zapping out the commercials OR you can make this meal! Yep, this entire meal came together in that amount of time and you don't need "octopus hands" to make it happen. And not only that, but the bonus is this serving, as shown, is about 390 calories. I love quick meals that are good for you (and use up some zucchinis I know you must have lying around!)
Recipe Source: BH&G 30 Minute Meals
I'm a fan of fresh dill – help me to remember to plant this next year!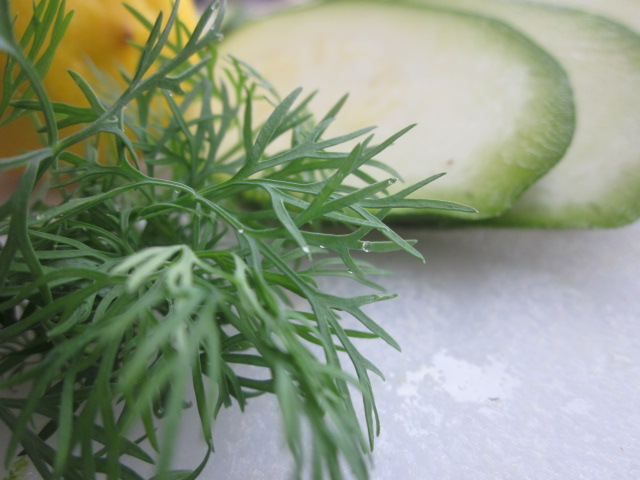 A great week night meal!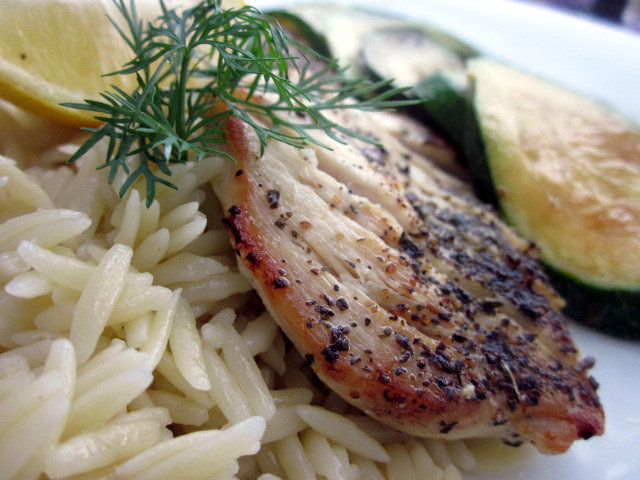 Herbed Chicken, Orzo and Zucchini
Serves: 4
Calories: 390
Prep Time to Table: 20 minutes
Recipe : BH&G 30 minute meals
Ingredients:
• 1 cup dried orzo
• 4 skinless, boneless chicken breast halves (1 to 1-1/4 lb.)
• 1 teaspoon dried basil
• 3 tablespoons olive oil
• 2 medium zucchini, sliced
• 2 tablespoons red wine vinegar
• 1 tablespoon snipped fresh dill
• Lemon wedges (optional)
• Snipped fresh dill (optional)
Preparation:
1. Prepare orzo according to package directions; drain. Cover and keep warm.
2. Meanwhile, sprinkle chicken with the basil; season with salt and ground black pepper. In large skillet heat 1 tablespoon of the olive oil. Add chicken and cook 12 minutes or until no longer pink (170 degrees F), turning once. Remove from skillet. Add zucchini to skillet; cook for 3 minutes or until crisp-tender.
3. In bowl whisk together vinegar, the remaining olive oil, and the 1 tablespoon fresh dill. Add orzo; toss. Season with salt and pepper. Serve chicken with orzo, zucchini, and fresh lemon wedges; sprinkle with dill.
Serves 4.
Notes: