This week at work we had a team meeting – folks were from here, Arizona and Florida. It's always great to meet in person instead of phone calls or video conferences. We met all day Thursday off-site and afterwards came back to my house where a couple of us cooked.
It had rained almost all afternoon but about 10 minutes before the rest of the team arrived, it stopped – quickly table and chairs were wiped off and cushions put back on… I had planned to serve the apps outside but with the temperature drop – to about 70 – it was too "cold" for some of the Arizona folks to be outside – I get it – you go from 115 to 70 – yes, that would be a shock to your system!
We started out with apps that I worked on:
This is my favorite go-to appetizer (click here for recipe)
And from previous posts – you all know I Heart Caprese Salad!
Then we moved onto dinner that Grace provided. The menu included pork tenderloins that were rubbed in fresh herbs and served with peaches in a wine reduction sauce. I have never made a tenderloin but after seeing what she did and how easy it is, I will definitely be adding this to my menu. In addition, she made penne with homemade pesto (YUM) and green beans with shallots. Awesome main course! Everyone cleaned their plate 🙂 so that they could have dessert!
Now passing the torch back to me… dessert time! I made lemon supreme served in cups and brownie bites – both recipes and be found here. I saved one lemon dessert to photograph but The Fisherman ate it before I could do so… which was OK with me 🙂
I didn't have time to make a fancy-smancy table scape but I did pick some flowers from my yard
And thanks to those who brought these
Great night and I really enjoyed the time we spent together!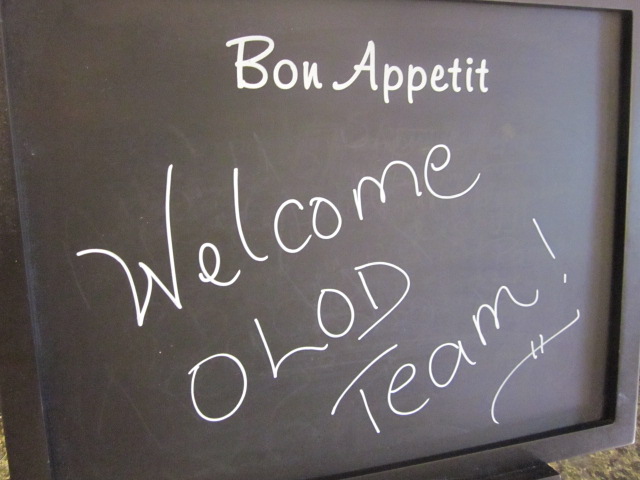 Office of Leadership and Organization Development