Over the weekend as I was making my grocery list, I pulled out a basket containing recipes that I've been collecting from magazines, newspapers, the web, etc. for years. Do you do this? Do you ever go back and make something? I was curious to what I have saved and started going through them – some I had no clue why they might have appealed to me and others were like, yay, this looks good. So now I have pulled out some of those recipes and put them in a new pile – recipes I want to try soon… we will see how that goes!
First up:
Recipe Source: Midwest Living June 2003
This recipe caught my eye because it had wild rice and living in Minnesota, well, it was a no brainer. This cold salad has a light dressing and colorful with dried apricots, red peppers and green onions. Doesn't it look fresh and inviting??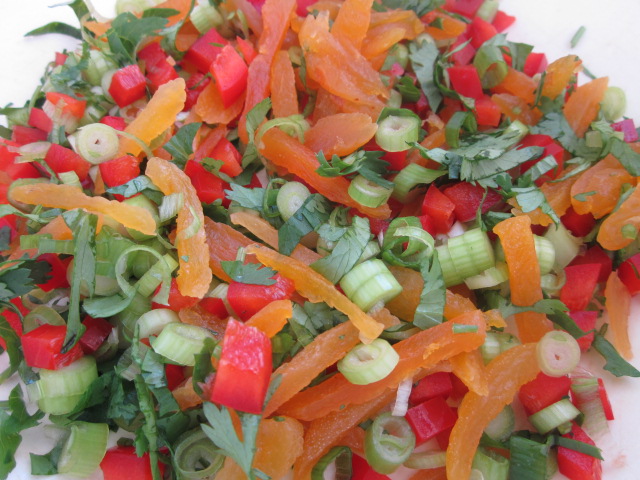 It was delicious and went well with the sausage and peppers we grilled out for dinner.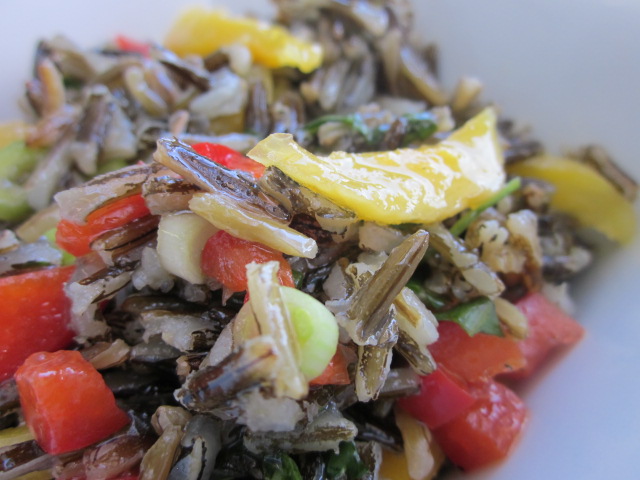 Hmmmm… what to make next?? Stay tuned!
Minnesota Apricot Wild Rice Salad
Serves: 8
Calories: 189
Prep Time to Table: 20 minutes plus 4 hours chilling time
recipe : Midwest Living
Ingredients:
1. 1 1/4 cups (8 ounces) uncooked wild rice, rinsed and drained
2. 3 cups chicken broth or water
3. 1/2 cup thinly sliced green onions
4. 1/3 cup dried apricots, cut into thin strips
5. 1/4 cup chopped red sweet pepper
6. 2 tablespoons snipped fresh cilantro
7. 2 tablespoons rice vinegar or white wine vinegar
8. 2 tablespoons orange juice
9. 2 teaspoons honey
10. 1/4 cup olive oil
11. Salt and ground black pepper
Preparation:
1. In a medium saucepan, place wild rice. Add chicken broth. Bring to boiling; reduce heat. Simmer, covered, for 40 to 45 minutes or until rice is tender; drain. Transfer to a large bowl. Add green onions, apricots, sweet pepper, and cilantro; stir to combine.
2. For Dressing: In a small bowl, stir together vinegar, orange juice, and honey. Using a wire whisk, slowly whisk in oil. Pour dressing over rice mixture; toss to coat. Season to taste with salt and ground black pepper. Cover; chill at least 4 hours before serving. Store, covered, in refrigerator up to 4 days. Makes 8 side-dish servings.
Notes: