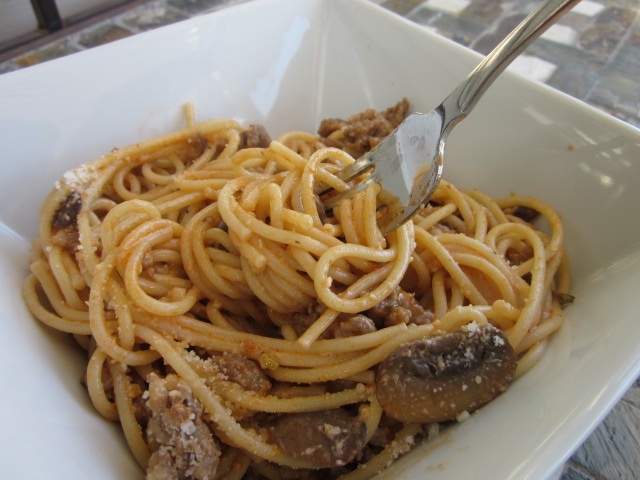 We are slowly getting back in the groove from our vacation. I think vacations need additional vacation days to rest up! Do you ever feel that way? Yes, vacations are relaxing, fun and it is great to get away but then you come home and need to unpack, do laundry, get groceries, go back to work, etc. So I think my new rule will be to take off a day sometime during the week after vacation to get caught up! Yes, sounds like a plan.
As you know we love pasta here and after a week of grilling and frying, I wanted to make The Fisherman a dish he would like and satisfy our pasta craving. This dish comes together in about 30 minutes and I was able to use some of our fresh rosemary from the garden. And with one of the main ingredients sausage – well – it was a no brainer that he would like it!
Recipe Source: Adapted from Food Network
Go ahead, give it a twirl and use as much romano cheese as you want!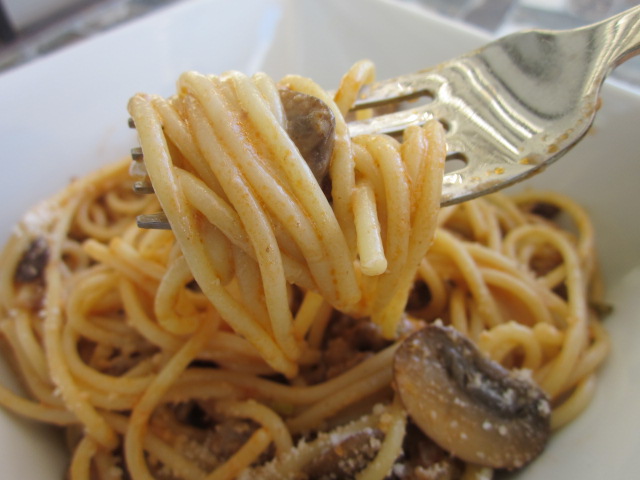 Spaghetti with Sausage-Mushroom Sauce
Serves: 4
Calories: na
Prep Time to Table: 30 minutes
Recipe : Food Network
Ingredients:
• Kosher salt
• 12 ounces spaghetti
• 3 teaspoons extra-virgin olive oil
• 3/4 pound sweet or spicy Italian sausage, casings removed
• 1 8-ounce package sliced baby bellas
• Freshly ground pepper
• 3 tablespoons tomato paste
• 1 teaspoon chopped fresh rosemary
• 1/4 cup heavy cream
• Shredded parmesan cheese, for topping (optional)
Preparation:
Bring a pot of salted water to a boil. Add the spaghetti and cook as the label directs. Reserve 1/2 cup cooking water, then drain.
Meanwhile, heat 1 teaspoon olive oil in a large nonstick skillet over medium heat. Add the sausage and cook, breaking it up with a wooden spoon, until browned, about 5 minutes. Transfer to a bowl.
Add the remaining 2 teaspoons olive oil to the skillet and increase the heat to medium high.
Add the mushrooms, season with salt and pepper and cook until lightly browned, 3 to 4 minutes. Stir in the tomato paste and rosemary and cook, stirring, 1 minute.
Return the sausage to the skillet, then add the cream and 1 cup water; bring to a gently simmer and cook until slightly thickened, 8 to 10 minutes. Season with salt and pepper.
Add the spaghetti to the skillet and toss with the sauce, adding some of the reserved cooking water to loosen, if needed. Top with shredded parmesan, if desired.
Notes: