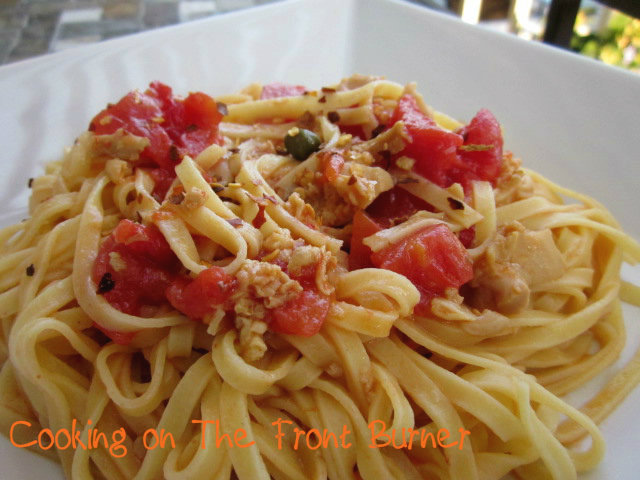 So yesterday was HOT as in 98 degrees when I left work. I went from my air conditioned office to the air conditioned subway leading to the parking garage, in the hot parking garage about 30 seconds, back in an air conditioned car, heading home and anticipating my air conditioned house! I had no groceries and was way too lazy to stop and get any. My plan was basically a FFYN (fend for yourself night). I felt a little guilty but thought The Fisherman would understand.
I started cleaning up the kitchen and a bunch of recipes that I had torn out of magazines were sitting on the counter. I looked at this one and went to my pantry and realized I had ALL the ingredients… yep, even the 2 cans of chopped clams. Well, I knew it was an omen that I had to cook. BUT the best part is when The Fisherman came home and saw I had a dinner ready to go….he was 100% sure I wasn't going to cook so he was happy as a clam! (pun intended)
This meal was a snap to put together. If you can, get the refrigerated pasta – I luckily had one in the freezer. It made all the difference. Mangia!
Recipe Source: Adapted from Martha Stewart Living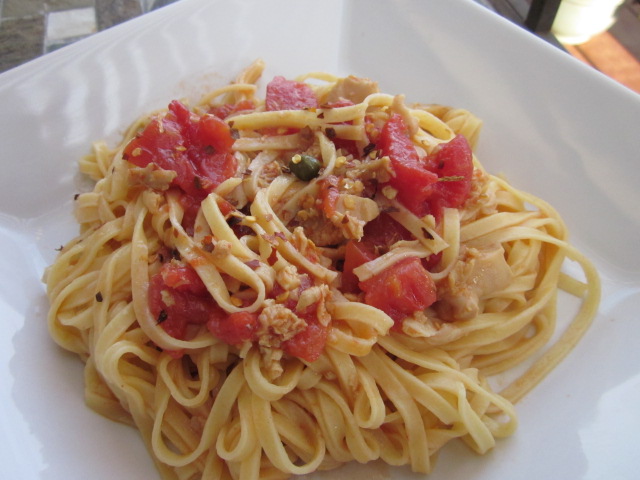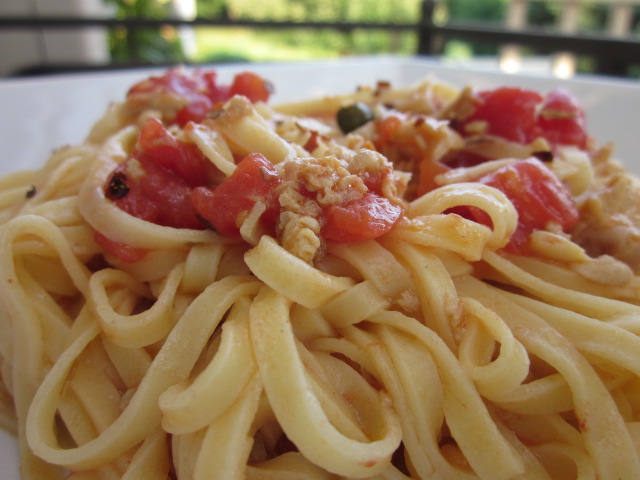 Linguini with Red Clam Sauce
Serves: 3-4
Calories: na
Prep Time to Table: 35 minutes
Recipe : Adapted from Martha Stewart
Ingredients:
-1/4 cup olive oil
-3 cloves garlic smashed
-1/2 t dried oregano
-red pepper flakes
-1 can chopped tomatoes (14 ounces)
-2 cans (6.5 oz) chopped clams, drained reserving 1 cup liquid
-1 T capers rinsed and drained
-9 oz package fresh linguini pasta
-sea salt
Preparation:
1. In large skillet add olive oil, garlic, oregano and a large pinch of red pepper flakes. Heat until garlic is golden. Stir in tomatoes (juice too) and reserved clam juice. Bring to simmer and cook about 7 minutes. Reduce heat to low and stir in clams and capers until heated through
2. Cook pasta as directed and toss with sauce; serve and top with additional red peppers and sea salt;
Notes: Capers can be left out if desired