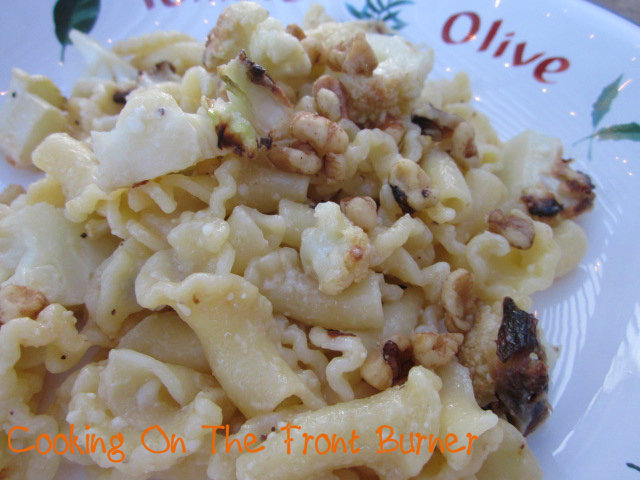 As promised, here is the dish I served at last weekend's dinner party. This dish had amazing flavor – a creamy roasted garlic sauce, oven roasted cauliflower then topped with toasted walnuts. And surprisingly it also tasted very good reheated (just add some pasta water before refrigerating). I really like how the cauliflower was tender and took on a sweet flavor after the roasting. This is a nice light dish that was definitely company worthy.
Recipe Source: ATK Pasta Revolution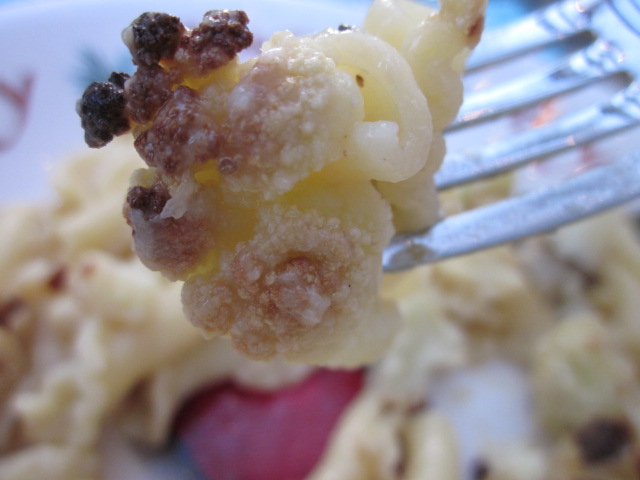 Also, if you are looking for a good table wine that isn't too expensive, this brand was recommended by the folks at Trader Joe's (under $5). It went well with the dinner – a red that wasn't too heavy or had too much of a "bite"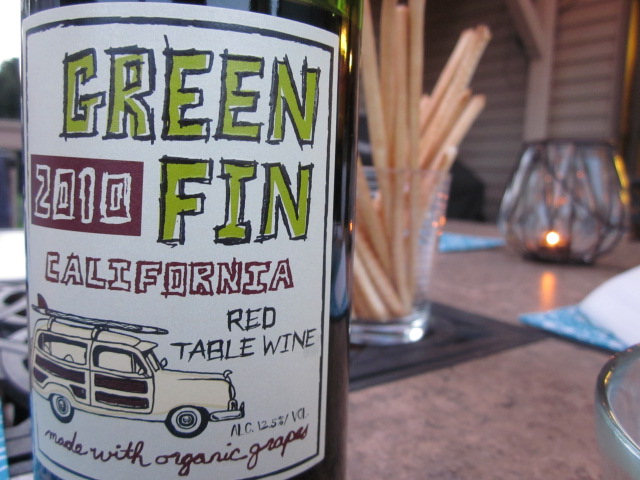 Hope you enjoyed the posts this week from start to finish!
Pasta with Roasted Cauliflower, Garlic and Walnuts
Serves: 6-8
Calories: na
Prep Time to Table: na
Recipe : American Test Kitchen Pasta Revolution
Ingredients:
-2 head garlic
-6 T olive oil pls 1 tsp
-2 T fresh lemon juice
-1/2 tsp red pepper flakes
-1 head cauliflower
-S&P
-1/4 tsp sugar
-1 lb campanelle pasta
-1/2 cup parmesan or romano cheese grated
-1/4 cups toasted walnuts, chopped coarse
Preparation:
1. Cut garlic to expose cloves; drizzle with each with ½ tsp olive oil and wrap tight in foil (cut sides up). Roast at 500 degrees until very tender about 35-40 minutes. Cool packet for 10 minutes, unwrap and gently squeeze out garlic into a small bowl. Mash with fork then add lemon juice and pepper flakes and then slowly whisk in ¼ cup olive oil (at this point place a rimmed baking sheet in oven and let heat for about 10 minutes)
2. Cauliflower – remove outer leaves and cut stem flush with bottom. Cut head pole to pole in 8 equal sections. Toss with 2 T oil and place on the heated baking sheet (cut side down), combine 1 tsp salt, ½ tsp pepper and sugar and sprinkle evenly over cauliflower. Roast until browned and tender – about 30 – 35 minutes. Remove and cool slightly and cut into ½" pieces
3. Cook pasta al dente and be sure to remove 1 cup of pasta water before draining and set aside. Return pasta to pot, add cauliflower, garlic sauce and cheese and ¼ cup pasta water. Season with S&P and additional lemon juice if desired. Toss to combine and use more water if needed. Serve and sprinkle walnuts on top
Notes: