Who is looking for a new salad to bring to that potluck or picnic OR just wants something new in their rotation?? Well, I have the recipe for you! I knew it was a keeper when The Fisherman took one bite and said "wow!" It is a wonderful combination of Asian flavors, chicken, veggies and pasta. Almost all our favorites in one dish. It came together quickly (~ 15 minutes) but needs at least 90 minutes to "chill out". I had not realized that when I got home from the club and didn't start it until 6. So dinner was a little late but worth the wait (and I got a cat-nap in).
Recipe Source: Better Homes and Gardens Chicken Dinners


One ingredient that I could not find at Target (hmmm…not surprising) was baby corn… you know the little cute ears that are in other Chinese meals. So I substituted regular corn – not bad but next time I will go to a real grocery store to find a can.
Also, I could picture this meal in a Chinese container and eating it right out of the carton… how ever you decide to partake – you will love it!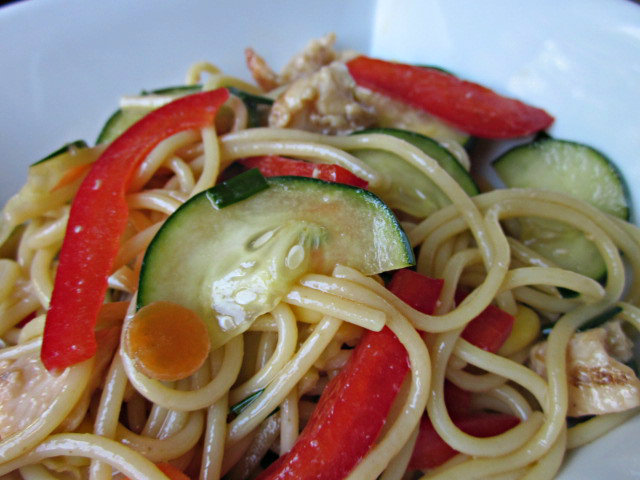 Oriental Chicken Pasta Salad
Serves: 4
Calories: 501
Prep Time to Table: 15 minutes plus chilling time
Recipe : BH&G Chicken Dinners
Ingredients:
-8 ozs cooked spaghetti or linguine, rinsed well in cold water
-4 oz. corn, drained or thawed
-1 ½ cups cooked chicken chopped
-1 small cucumber thinly sliced
-1 small red pepper cut into thin strips
-1/2 cup thinly sliced carrots
-1/2 cup chopped green onions or chives
-1/3 cup rice vinegar
-1/4 cup olive oil
-3 T soy sauce
-1 tsp sesame oil
-1/2 tsp sugar
-1/2 tsp dry mustard
-dash hot pepper sauce
Preparation:
1. In large bowl combine first 7 ingredients
2. Combine last 7 ingredients in a screw top jar and shake well
3. Pour over salad, toss gently and chill 2-24 hours
4. Gently re-toss and serve
Notes: