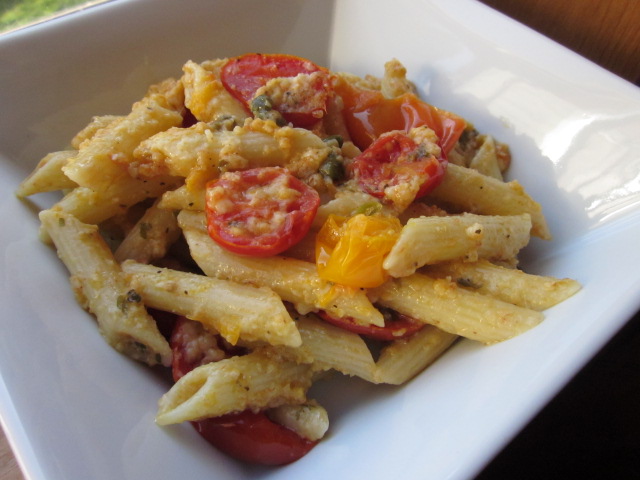 Back to some pasta! I can't go too long without having this staple. This recipe has an interesting ingredient – capers. I've decided I'm not a fan – I liked the flavor it gave this dish but did not like biting into them… they are hard to describe, kinda salty – you could try and decide for yourself 🙂 I did love the tomatoes that were baked in olive oil and top with Italian bread crumbs then the whole dish is tossed together with romano cheese. I can't wait until our garden comes in and we have our own cherry tomatoes but guess we have a ways to go for those… but when we do I'll make this again.
Source: BH&G Italian Special Interest Magazine
Oh and you might be asking what Ponza is – it is an island off the west coast of Italy (no, I didn't know this, it was listed in the recipe)
Pasta Ponza
Serves: 2-3
Calories: na
Prep Time to Table: 45 minutes
Recipe : BH&G Italian
Ingredients:
-4 cups combo of yellow, red cherry or grape tomatoes halved
-1/4 cup capers, rinsed and drained
-1 T olive oil plus more for drizzling
-1/2 t salt
-1/2 fresh pepper
-1/2 cup Italian bread crumbs
-8 oz. penne pasta
-3/4 cup pecorino romano cheese
Preparation:
1. Preheat oven to 375. Butter a 8×8 baking dish.
2. Combine tomatoes, capers S&P and olive oil in dish and toss to coat. Sprinkle bread crumbs on top and drizzle with olive oil. Bake for 30-35 minutes or until top is golden. Cool for 5 minutes
3. Cook pasta, reserving ½ cup water. Transfer pasta to large bowl and add tomatoes, cheese and toss well. If needed thin out a bit with the water.
Notes: