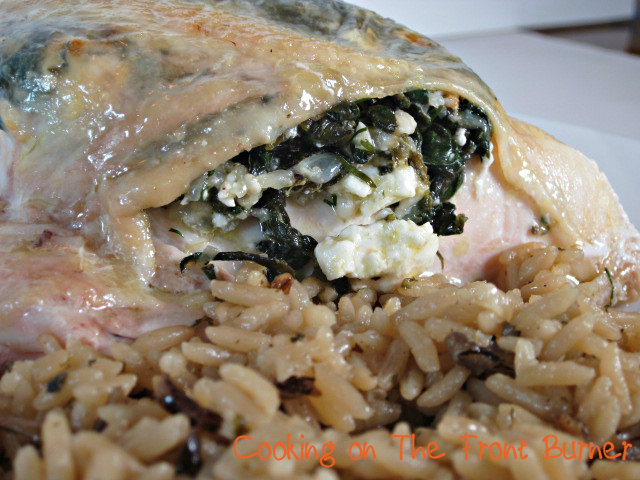 If this seems all Greek to you, well, it is… this is a Greek inspired dish and where you can learn a little more about its origin….. pronounced: span-uh-KO-pee-tah.
Growing up I wasn't a spinach person – I don't care how strong it made Popeye! But now I do enjoy the flavor it adds to certain dishes and this one also has feta cheese and fresh lemon juice….mmmmm…. really good. I think next time I might even add some lemon zest to kick it up a bit. Mr. John really enjoyed it too. Served with my favorite 90 second Uncle Ben's rice, this was a complete meal!
Source: BH&G Chicken Dinners
The stuffing held up nicely under the skin and I think it helped keep the chicken moist.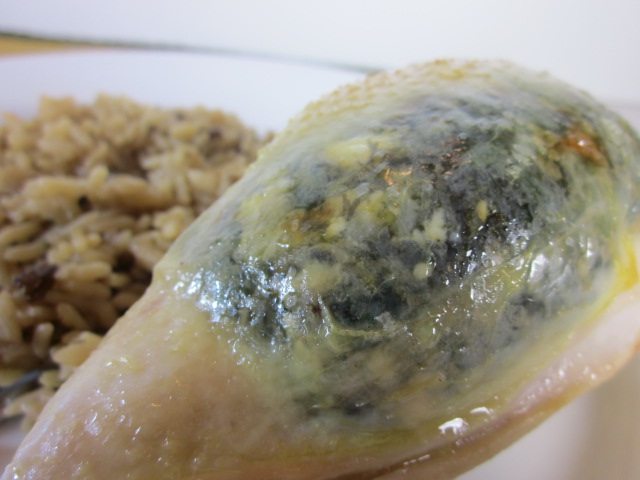 Spanakopita-Stuffed Chicken Breasts
Serves: 4
Calories: 468
Prep Time to Table: 50 minutes
Recipe : BH&G Chicken Recipes
Ingredients:
-3 T olive oil
-1/2 cup finely chopped onion
-1 clove garlic minced
-1- oz. frozen spinach, thawed and drained well
-1/3 cup feta cheese
-3 T fresh snipped dill
-2 T fesh lemon juice
-1/4 t nutmeg
-1/4 tsp pepper
-4 large chicken breasts with skin and bone
-1/2 t salt
Preparation:
1. Preheat oven to 375. Lightly coat a rectangular baking dish with cooking spray. In a medium skillet, heat 2 T oil over medium heat and add onion and garlic cooking 4-6 minutes until soft. Remove from heat and add spinach, cheese, dill and 1 T lemon juice, nutmeg and pepper…stir well to combine
2. Gently separate the skin from breast halves to make a pocket. Spoon ¼ of mixture under skin and press to make an even layer
3. Place chicken bone side down in dish. Combine remaining juice and olive oil and drizzle over chicken. Bake at 375 for 35-40 minutes
Notes: