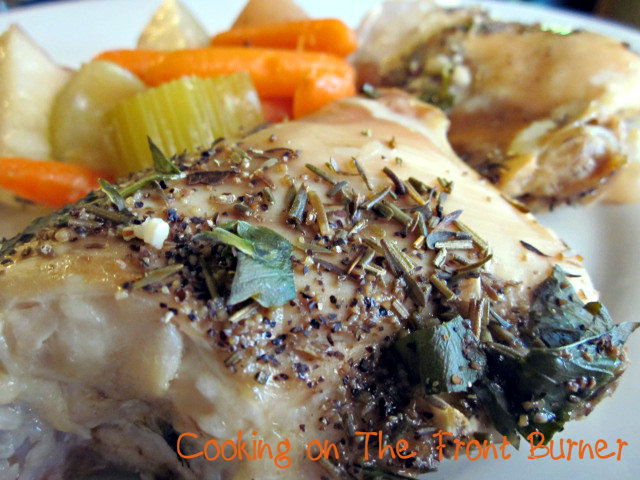 This had to be one of the tastiest slow cooker meals I have ever tried. I'm not much of a slow cooker person, no personal reason – I just tend not to think of using one especially during the warmer months. But when I saw this recipe- the ease and yummy recipe picture – I dusted it off and gave it a go!
First, let's talk about slow cookers – I have 2. The first one was a shower gift many moons ago (~29 years). I'm guessing some of you have the same one – it still works but a few years ago I updated to a new modern one and just can't let this one go…
Pretty cool and retro!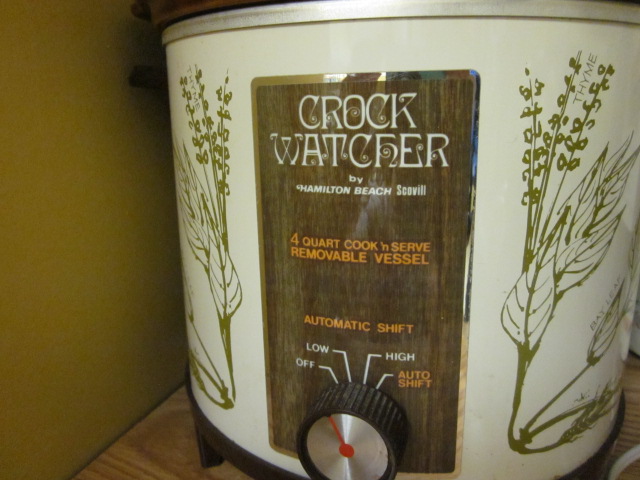 Circa ~1983
The new ones seem to cook a LOT faster. This recipe said 3 1/2 to 4 hours on high but it was done under 3 hours.
First, I prepared the veggies that went on the bottom of the cooker
Next the chicken was placed on top with some spices then added the wine and chicken broth
Cover and let it cook..
And here is the fancy Crock Pot
Once done (quicker than I thought), remove the chicken and veggies using the leftover broth/juices to make a sauce
I really think the whole key to this was the wine – it provided nice flavor as a compliment to the rest of the dish. I told my friend Sue about this last night and I know she is waiting for the recipe…so here you go!
Source: Better Homes and Garden Low Calorie Recipes
(Printable recipe)
Chicken in Wine Sauce
Serves: 6
Calories: 321
Prep Time to Table: 10 minutes plus cooking time
Recipe : BH&G Low Calorie recipes
Ingredients:
-4 medium red potatoes, quartered
-about 1 ½ cup baby carrots
-2 celery stalks cut in 1" pieces
-1 small onion sliced
-7 to 8 chicken thighs, bone in, skin removed
-1 T chopped fresh parsley
-1/2 tsp dried rosemary, crushed
-1/2 tsp dried thyme, crushed
-1 tsp minced garlic
-1 cup chicken broth
-1/2 cup dry white wine
-3 T butter
-3 T flour
Preparation:
1. In an slow cooker, place potatoes, carrots and celery on bottom. On top place chicken pieces on top and sprinkle with parsley, rosemary, thyme and garlic and ½ t salt and ¼ t black pepper. (best if chicken is in single layer)
2. Add broth and wine around sides
3. Cover and cook low 7-8 hours; or high 3 1/2-4 hours (though my cooker was quicker than this – about 3).
4. Remove chicken and veggies; skim fat from broth and strain broth
5. In saucepan melt butter then stir in flour and cook 1 minute. Add broth and stir until thickened and bubbly and cook an additional 1 minute.
6. Pass sauce with the chicken and veggies
Notes: