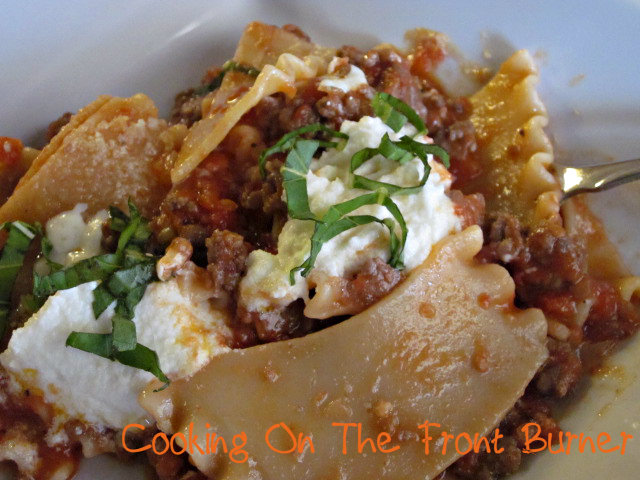 Happy Sunday! Hope everyone had a good weekend…. we had a "HGTV" project weekend. Both Mr. John and I did some planting – garden and flowers, he reorganized the garage and built a new workbench, and I painted one of the bedrooms (yeah, I know – not again and when Ms. D comes home, she'll be surprised). I even had time to get groceries and get dinner on the table. Now back to work rest up, ha!
So the meal – if you like lasagna, but don't have the time to fuss, I really think you will want to try this one. It is made in one skillet and from start to finish took about 35 minutes. It also has all the ingredients you would expect and very flavorful!
Source: Adapted from America's Test Kitchen Pasta Revolution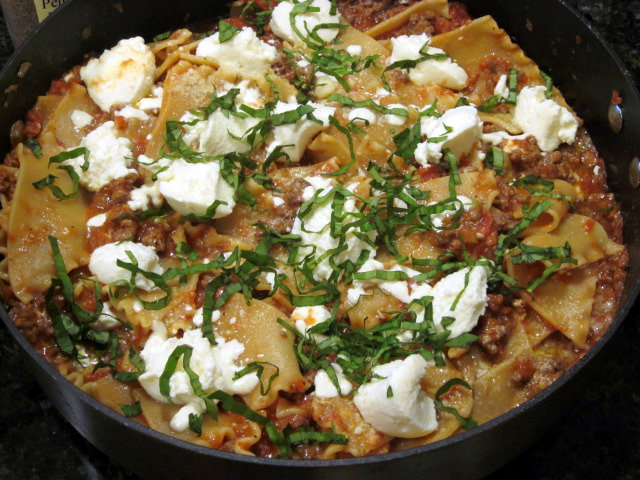 Hope you have a good week ahead!
Skillet Lasagna
Serves: 4-6
Calories: NA
Prep Time to Table: 30 minutes
Recipe : Adapted from ATK Pasta Revolution
Ingredients:
-3 (14.5 oz) diced tomatoes
– 1 T olive oil
-1/3 cup finely chopped onion
-1 tsp minced garlic
-1/4 t red pepper flakes
– 8 oz ground beef (85/15)
-8 oz hot (or mild) Italian sausage
-10 curly edge lasagna noodles (broken in 1-2" lengths)
-2 oz mozzarella cheese
-1/4 c parmesan cheese
-3/4 cup ricotta (whole or skim not fat free)
-3 T chopped fresh basil
Preparation:
1. Heat oil in large skillet over medium heat; add onion and ½ tsp salt-cook and stir often for about 5 minutes; add garlic and pepper flakes stirring for 30 seconds.
2. Add beef and sausage, breaking up with a spoon until no longer pink
3. Add pasta to mixture then pour tomatoes on top; stir, bring to boil, cover and be sure to cook a good summer until pasta is tender – about 20 minutes
4. Remove from heat, stir in half of mozzarella and half of parmesan cheese. Season with S&P. Dot with ricotta cheese then sprinkle remaining cheeses. Cover and let sit about 4 minutes until cheese is melted. Sprinkle with basil and serve.
Notes: