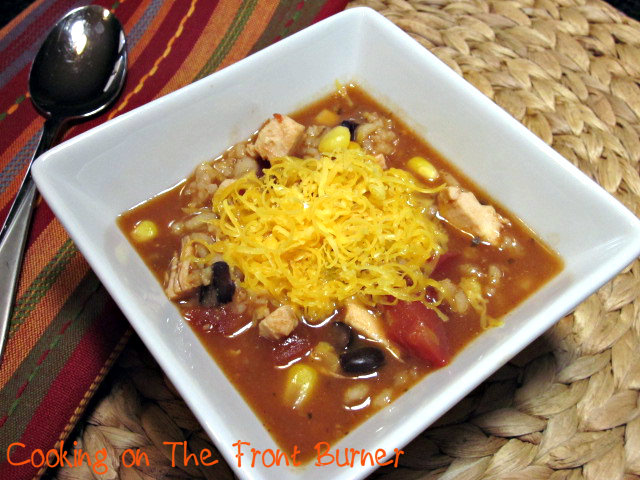 I don't mind how warm it is outside, I don't need a cold winter night to enjoy a delicious bowl of chili … and luckily Mr. John feels the same way. I was really drawn to this recipe because it had all the flavors I like plus it looked super easy to make and I could go about my business (whatever) until it was done.
Recipe Source: MES Cookbook (recipe courtesy of Brenda S.)
The only change I made is adding quick cooking barley towards the end of the cooking time, I think it called for regular but I couldn't find that… I'm sure that's OK – you'll let me know Brenda if I'm wrong, right? 🙂
My favorite way is topped with cheddar cheese that melts nice and gooey into the chili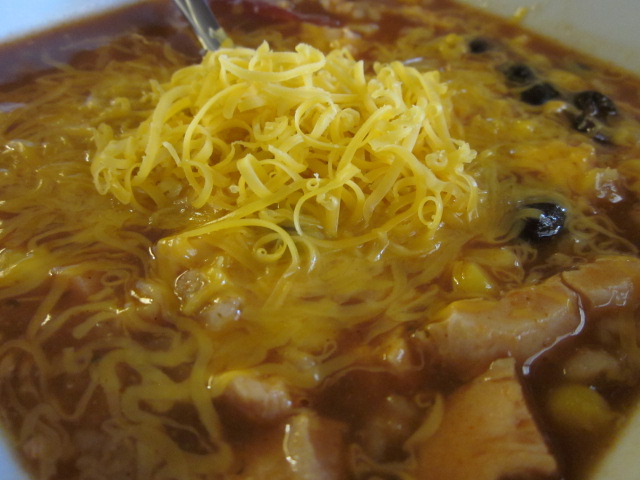 Mr. John kicked it up notch by adding a dollop of sour cream…any way you like your chili, you'll want to include this recipe!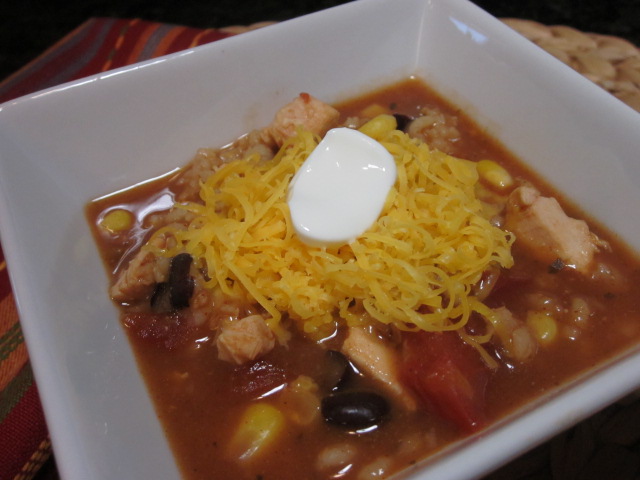 Chicken Barley Chili
Serves: 6-8
Calories: NA
Prep Time to Table: 50 minutes
Recipe : MES Cookbook Brenda S
Ingredients:
-14.5 oz diced tomatoes
-15 oz can tomato sauce
-14.5 oz can chicken broth
-4 cups water
-1 T chili powder
-1 t cumin
-1 cup barley (fast cooking)
-15 oz. black beans, rinsed and drained
-16 oz. bag frozen corn
-3 cups cooked chicken, bite size pieces
Preparation:
1. In large pan, combine first 6 ingredients; bring to boil, cover and reduce heat to low. Simmer 30 minutes
2. Add barley and simmer additional 10 minutes then add beans, corn, chicken and simmer for an additional 5 minutes covered. Let stand about 5 minutes before serving
3. Top with cheddar cheese, sour cream and/or crushed tortilla chips
Notes: