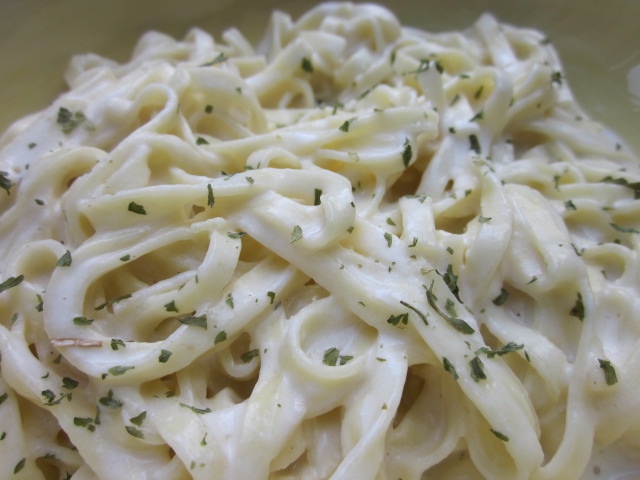 I wonder if someone reading this will recognize their recipe? I been wanting to try some of the recipes from the cookbook below. First up is Kate's for Fettuccine Alfredo; however I struck out finding fresh Fettuccine so luckily Linguini is Fettuccine's cousin… and that I did find at Cub. I've made Fettuccine Alfredo before but what really sets this one apart is fresh lemon juice and grated lemon zest…. yummmm so good!!! And making it with fresh pasta (i.e, Buitoni's) made it lighter than using boxed. Worth a trip to the south part of town.
Recipe Source: MES Cookbook* from Kate C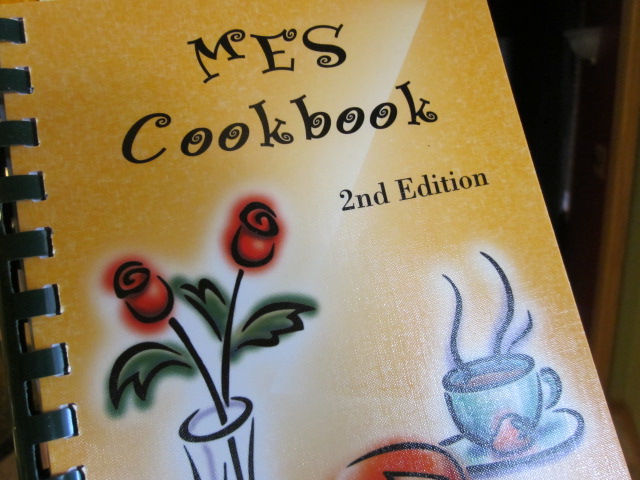 *I have another recipe in the queue… stayed tuned…
Now, I want to share a funny story about Fettuccine Alfredo… in 1991 Mr. John spent 3 months in Germany working. About halfway through, the company flew me and the girls over (yes, I flew from NYC to Stuttgart Germany by myself and 2 small children!) Our friends Brian and Steph were on a 2 year assignment there and for 10 days we all took a trip to Italy. One of the stops was Rome and Steph and I really wanted to go this restaurant (below) so we went to the guy working at the hotel and said "could you tell us where Fettuccine Alfredo's is"… well, I'm sure he was just laughing on the inside thinking you crazy Americans!….. the restaurant was called Alfredo's not Fettuccine Alfredo's… anyway, we did go and had their famous dish! Everything was so white and sparkling and here the crazy Americans come with strollers and small children! I'll never forget this trip and the fun we had…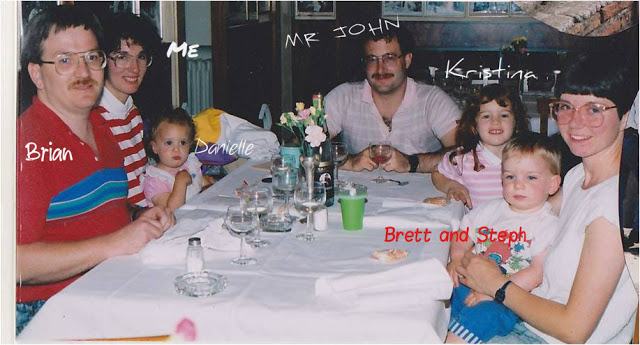 Fettuccine Alfredo
Serves: 2-3
Calories: NA
Prep Time to Table: 20 minutes
Recipe : MES Cookbook (Kate Connor)
Ingredients:
-9 oz. fresh fettuccine (or linguini)
-1 ¼ cup heavy cream
-1/4 c fresh lemon juice
-6T unsalted butter
-1 c parmesan cheese, grated
-1 t grated lemon zest
-1 pinch grated nutmeg
-S&P to taste
Preparation:
1. Cook pasta in large pot of boiling water until tender but still firm to bite; following package directions
2. Stir 1 cup heavy cream and lemon juice in large skillet to blend. Turn heat on medium and add butter until butter melts – about 3 minutes – stir occasionally. Remove from heat
3. Add pasta and toss and then add remaining heavy cream and parmesan cheese to skillet and mix.
4. Add lemon zest, nutmeg and S&P to taste.
5. Toss pasta mixture over low heat until sauce thickens slightly, about 1 minute.
Notes: this could be doubled and also cooked chicken or shrimp could be added