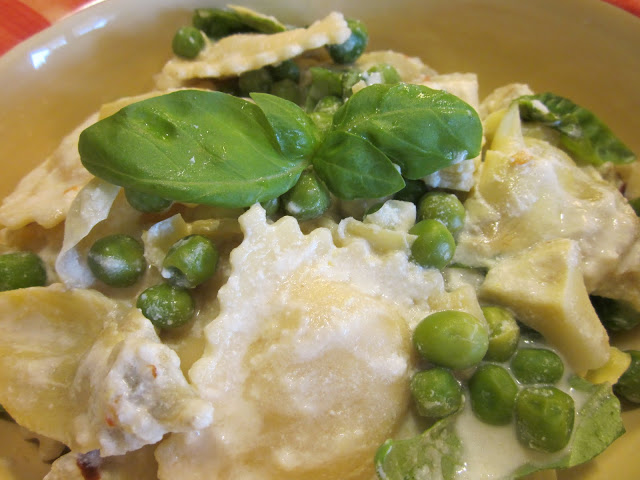 Happy start of the week! For you to enjoy tonight's recipe you must like artichokes and peas – though I really think the peas could be left out… so now we are back to artichokes! I like artichokes especially in a dip… I would love someone's recipe for a yummy spinach artichoke dip – I feel a craving coming on. Anyway back to dinner, this recipe called for frozen artichoke hearts – no luck at Target so I substituted canned ones and think that was just fine. It came together quite quickly… in fact a little too quick. I thought Mr. John would be home around 6:30 but he needed to run an errand after his club time. Luckily a quick reheat and dinner was served.
Tonight's ingredients
Recipe adapted from the Food Network magazine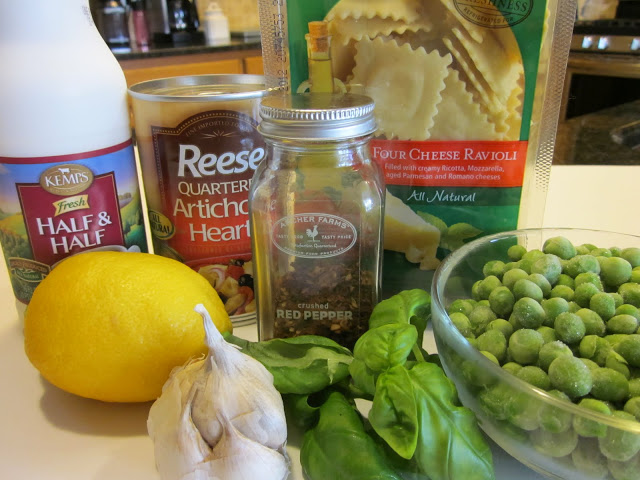 Don't forget my craving and send something my way!
Ravioli with Artichoke Sauce
Serves: 4
Calories: NA
Prep Time to Table: 25 minutes
Recipe : adapted from Food Network
Ingredients:
-14 oz. can chopped artichokes
-1 cup half and half
-1 clove garlic smashed
-1/4 tsp crushed red pepper
-salt
-1/2 cup frozen peas (unthawed)
-2 tsp zested lemon peel
-10 oz. cheese ravioli
-¼ cup grated romano cheese
-¼ cup torn fresh basil leaves
Preparation:
1. Combine artichokes, half and half, red pepper, garlic and ¼ t salt in large skillet – bring to simmer, cover and simmer about 5 minutes. Add peas and continue to cook covered until tender – about 5 minutes. Remove from heat and add lemon zest and discard garlic
2. Cook ravioli as directed; drain reserving ½ cup pasta water. Add ravioli to sauce and toss gently with romano cheese. Thin sauce if needed with pasta water and stir in basil
Notes: