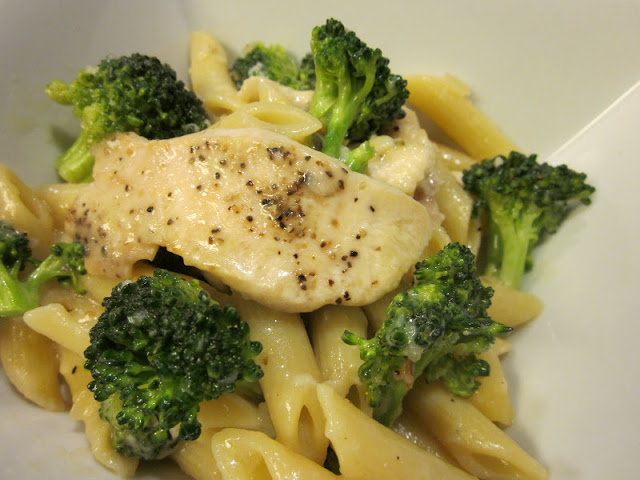 Here's a tasty dish that I adapted from ATK Pasta Revolution. It is so good because it even tastes good leftover! I'm not a fan of leftovers… I leave those to Mr. John – but I made this last night, he is gone tonight so I decided to give it a try. It was really good. And the other good part, it is made in one skillet! Yep, no lie.
The ingredients: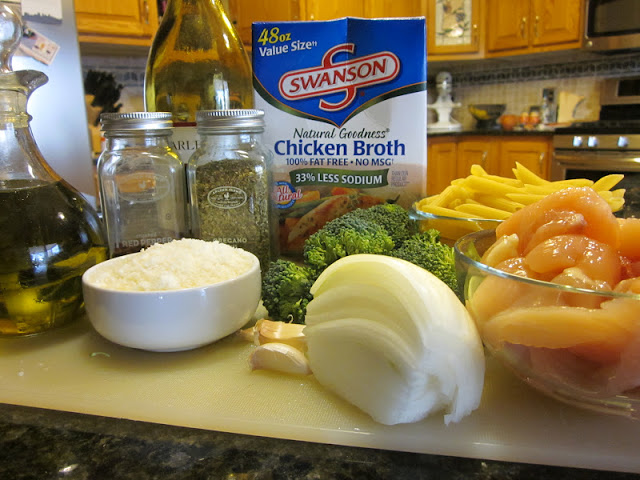 Recipe inspired from America's Test Kitchen Pasta Revolution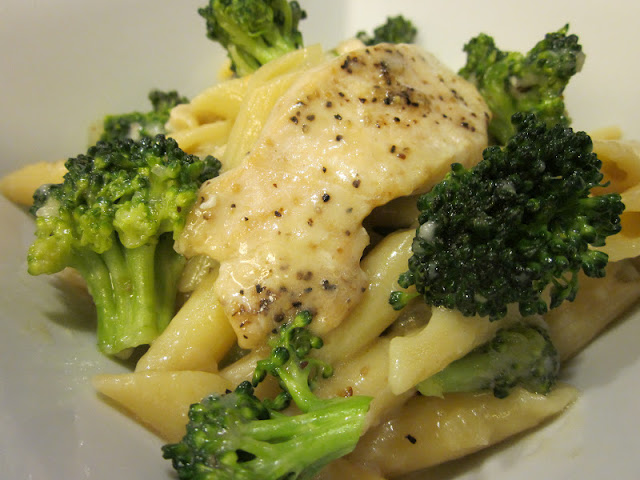 Skillet Penne with Chicken and Broccoli
Serves: 4
Calories: na
Prep Time to Table: 45 minutes
Recipe : adapted ATF Pasta Revolution
Ingredients:
-1 lb boneless chicken cut into thin slices
-S&P
-1/4 olive oil
-1/2 cup diced onion
-2 cloves garlic minced (or more to taste)
-1/2 tsp crushed red pepper
-1/2 tsp oregano
-1/2 cup dry white wine
-2 ½ cups water
-2 cup chicken broth
-8 oz penne
-8 oz broccoli florets (small)
-1 cup romano cheese
Preparation:
1. Pat chicken dry and season with S&P. heat 1 T of olive in skillet until smoking, Add chicken and cook – don't stir – until brown on one side about 2 minutes. Stir chicken and cook until cooked 2-3 minutes, transfer to bowl and keep warm
2. Add 1T oil back to skillet and heat. Add onion and ½ tsp salt and cook until soft – about 5 minutes stir in garlic, red pepper and oregano – cook 30 seconds. Stir in wine and simmer until almost evaporated
3. Stir in water, broth and pasta. Simmer at a steady pace; stirring often about 12 minutes until tender
4. Stir in broccoli and cook until sauce is thickened about 3-5 minutes. Stir in chicken (with any juices) and heat through. Remove from heat and stir in 2 T oil and romano cheese.
Notes: