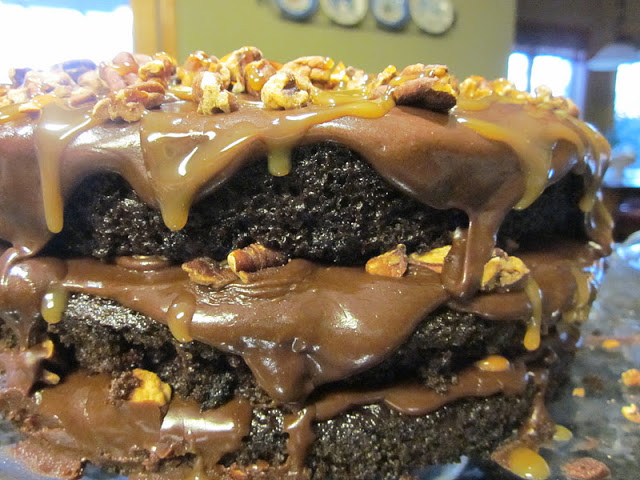 Caramel Pecan Turtle Cake
Dessert time! Recently we went out with some friends and we ended up back at our place for dessert… Mr. John loves turtle sundaes, turtle brownies. etc. so I found this recipe and gave it a try. He was quite pleased and gave it 5 stars…
Dry ingredients
Pans greased and lined with parchment paper
Wet ingredients
Beat and add to dry mixture
Frosting
Toasted pecans
Assemble by placing one layer on plate, top with frosting, pecans and caramel (original recipe called for melted caramels but I found these didn't work well so after first layer I switched to caramel sauce)
So gooey and yummy (and is awesome with vanilla ice cream!)
**So in case you are wondering about the I Like Turtles title – well this cute little YouTube video should explain it all! (and it an inside joke with some co-workers and I'm dedicating this post to them – my wolfpack!)
Caramel Pecan Turtle Cake
Serves: 12
Calories: too many 
Recipe : Always Superb cookbook
Ingredients:
Cake:
• 2 cups flour
• 1 ¾ cup sugar
• ½ c baking cocoa
• 1 tsp salt
• 1 tbl baking soda
• 1 egg
• 2/3 c veg. oil
• 1 c buttermilk
• 1 cup hot coffee
Frosting:
• ½ c milk
• 1 c sugar
• 6 Tbl butter
• 2 cups semisweet chocolate chips
Topping/other:
1 ½ c toasted pecan pieces
Caramel sauce
Preparation:
1. Grease 3 9" pan and line with parchment paper. Combine flour, sugar, cocoa, salt and baking soda in a bowl and mix well. Combine the egg, oil and buttermilk in a separate bowl and mix well
2. Add egg mixture to dry and mix well. Pour hot coffee into the batter slowly stirring constantly. Pour batter evenly into pans and bake at 350 about 20-25 minutes (until toothpick comes out clean) cool in pans 10 minutes then remove and cool completely on racks.
3. Frosting – combine milk and sugar in saucepan and mix well; add butter and bring to boil. Remove from heat then add chips and whisk until smooth – if too thick add some coffee
4. Assemble: place one cake layer on plate and pour 1/3 of frosting and let drip down sides. Sprinkle with ½ c of pecans and drizzle with desired caramel sauce. Repeat layers twice.
Notes: