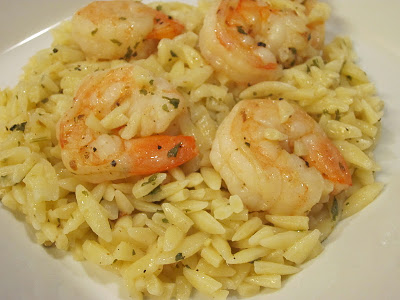 I'm still on the lemon kick and I still have about 2 more lemons to go! Waste not, want not….
Since I didn't get home until almost 6 and was pretty hungry, I really liked how quick this dish came together. Mr. John liked it, said it was a strong 4 and now orzo pasta is becoming one of his favs. The recipe was adapted from Cooking Light and can be found here.
On a side note about the spice Lemon Pepper – curious to see what others think, I love fresh lemon and pepper but not a fan of the jarred spice. I guess there is nothing like fresh… anyone else?
Lemon Pepper Shrimp Scampi
Serves: 2-3
Calories: NA
Prep Time to Table: 30 minutes
Recipe : Adapted from Cooking Light
Ingredients:
• 1 cup uncooked orzo
• 1 Tbl dried parsley
• 1/2 teaspoon salt, divided
• 8 teaspoons salted butter, divided
• 1 pound peeled and deveined jumbo shrimp
• 1 clove garlic sliced thin
• 2 tablespoons fresh lemon juice
• 1/4 teaspoon black pepper
Preparation:
1. Cook orzo according to package directions, drain. Place orzo in a medium bowl. Stir in parsley, 1 tsp butter and 1/4 teaspoon salt; cover and keep warm.
2. While orzo cooks, melt 1 tablespoon butter in a large nonstick skillet over medium-high heat. Sprinkle shrimp with remaining 1/4 teaspoon salt. Add half of shrimp to pan; sauté 2 minutes or until almost done. Transfer shrimp to a plate. Melt 1 teaspoon butter in pan. Add remaining shrimp to pan; sauté 2 minutes or until almost done. Transfer to plate.
3. Melt remaining 1 tablespoon butter in pan. Add garlic to pan; cook 30 seconds, stirring constantly. Stir in shrimp, juice, and pepper; cook 1 minute or until shrimp are done.
4. Add shrimp to orzo and strain sauce into mixture, toss and serve
Notes: