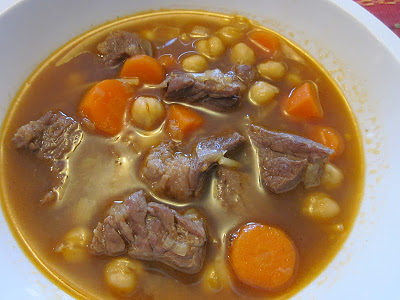 Moroccan Beef Stew
What a nice treat! I was just going about my business on this Saturday morning when the phone rang and I received an invite to lunch with Sue and Steve. (Mr. John missed out as he is helping install a new kitchen with the newlyweds in the cities). I jumped in the car, headed over and was greeted by a wonderful aroma as the door opened. Sue found this recipe in the current Oprah Magazine.. It was absolutely delicious and I helped myself to seconds. Sue asked for a rating and I'm giving it 4 stars! (They were kind enough to send home some for the Mr.!)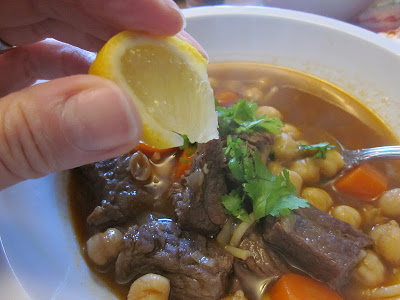 Topped with fresh cilantro and a squeeze of lemon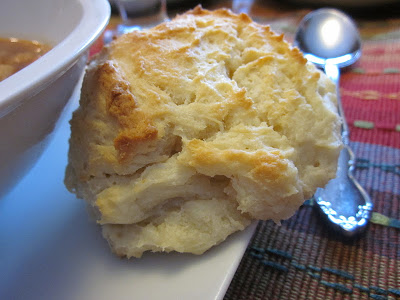 Sue also made these sour cream biscuits – I need to get this recipe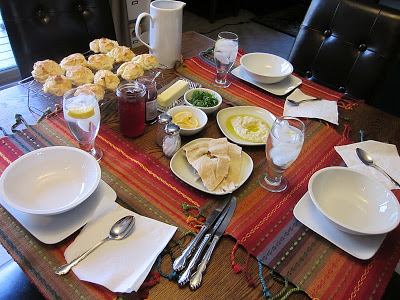 Her tablescape…
Thanks for having me! I enjoyed the food and company!!
Moroccan Beef Stew
Serves: 6
Calories: NA
Prep Time to Table: 90 minutes
Recipe : Oprah Magazine Jan 2012
Ingredients:
1. 2 Tbsp. olive oil, divided
2. 1¼ pounds beef chuck, trimmed and cut into ¾ cubes
3. 2 tsp. salt, divided, plus more to taste
4. ½ tsp. ground black pepper, divided, plus more to taste
5. 3 cloves garlic, finely chopped
6. 1 large carrot, chopped
7. 1 large yellow onion, chopped
8. 1 tsp. ground cumin
9. 1 tsp. sweet paprika
10. ½ tsp. ground cinnamon
11. ½ tsp. ground ginger
12. 6 cups beef or chicken broth
13. 2 (15-ounce) cans chickpeas, rinsed and drained
14. ½ cup dried spaghetti, broken into 1-inch pieces
15. 6 Tbsp. chopped cilantro, for garnish (optional)
16. 1 large lemon, cut into 6 wedge
Preparation:
Heat 1 Tbsp. oil in a large Dutch oven or heavy pot over medium-high heat. Add beef, 1 tsp. salt, and ¼ tsp. pepper and cook, stirring occasionally, until no juices remain and meat is browned, about 10 minutes.
Add remaining 1 Tbsp. oil, garlic, carrot, onion, and ½ tsp. salt and cook until vegetables are softened, 6 to 8 minutes. Stir in cumin, paprika, cinnamon, and ginger and cook, stirring constantly, 1 minute. Add broth and bring to a boil, scraping up any browned bits. Reduce heat to medium-low, cover, and simmer until beef is just tender, about 45 minutes; skim off and discard any foam on surface while cooking, if needed.
Add chickpeas, spaghetti, ½ tsp. salt, and ¼ tsp. pepper and continue to cook, covered, until spaghetti is al dente, 10 to 15 minutes more.
To serve: Season to taste with salt and pepper, then ladle soup into bowls and garnish with cilantro (if using) and lemon wedges on the side.
Notes: