I'm dreaming of a white Christmas tasty scone! I just added this to my must try list. This past weekend my friend Cara taught a Community Ed class on making scones…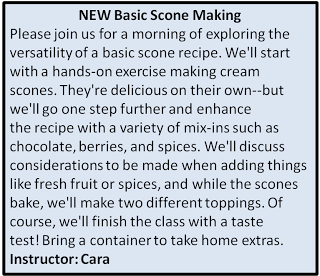 Then my friend Sue (who is the Community Ed coordinator) texted me the picture of the final product that she made at home. I now have the recipe and can't wait to make a batch soon!
And speaking of Community Ed classes, be sure to check out their offerings and maybe you'll find something tasty, creative or fun to do over the winter to get out of the house 🙂 Because you know it is going to be a long one!
Dreamy Cream Scones
(based on the recipe from The America's Test Kitchen Cookbook)
• 5 tablespoons unsalted butter, cut into 1/4-inch cubes
• 2 cups (10 ounces) unbleached all-purpose flour
• 1 tablespoon baking powder
• 3 tablespoons sugar
• 1/2 teaspoon salt
• 1 cup heavy cream
1. Adjust oven rack to middle position and heat oven to 425°F.
2. Place butter in bowl, top with flour, baking powder, sugar and salt in large bowl. Use two knives, a pastry blender or your fingertips and quickly cut in butter until mixture resembles coarse meal, with a few slightly larger butter lumps.
3. Stir in heavy cream with your hands, a rubber spatula or fork until dough begins to form.
4. Transfer dough and all dry, floury bits to countertop and knead dough by hand just until it comes together into a rough, sticky ball, 5 to 10 seconds. Pat dough into an 8-circle, and then cut the dough into 8 wedges with a
5. Place wedges on ungreased baking sheet and bake until scone tops are light brown, 12 to 15 minutes. Cool on wire rack for at least 10 minutes. Serve warm or at room temperature.
Notes, toppings and mix-ins!
I like to moisten the tops of the unbaked scones with a touch of water and then sprinkle decorating sugar on top. It adds a nice, sparkly, sweet touch. You can use different colors for different occasions – red and green for Christmas, perhaps? Hot pink is a favorite at my house!
Always use either parchment paper or silicone pan liners to keep your scones from sticking to the pan.